Meet Robinson Concrete's new FMX
Aug 29, 2022 @ 16:29
🟥There's a new kid on the block down at Robinson Concrete Ltd and it's top of the pops! 🟥

𝗦𝗮𝘆 👋 𝘁𝗼 𝘁𝗵𝗲 𝘁𝗲𝗮𝗺'𝘀 𝗹𝗮𝘁𝗲𝘀𝘁 𝗻𝗲𝘄𝗯𝗶𝗲, 𝘁𝗵𝗶𝘀 𝗳𝗮𝗻𝘁𝗮𝘀𝘁𝗶𝗰 𝗙𝗠𝗫 𝟴𝗫𝟰 𝗧𝗿𝗶𝗱𝗲𝗺 𝘄𝗶𝘁𝗵 𝗿𝗲𝗮𝗿 𝗹𝗶𝗳𝘁 & 𝘀𝘁𝗲𝗲𝗿𝗲𝗱 𝘁𝗮𝗴 𝗮𝘅𝗹𝗲, 𝟭𝟯𝗟, 𝟱𝟬𝟬𝗛𝗣 𝗲𝗻𝗴𝗶𝗻𝗲 𝗮𝗻𝗱 𝘁𝗵𝗲 𝗹𝗮𝘁𝗲𝘀𝘁 𝗶-𝗦𝗵𝗶𝗳𝘁 𝗚𝗲𝗮𝗿𝗯𝗼𝘅 𝘄𝗶𝘁𝗵 𝗖𝗿𝗮𝘄𝗹𝗲𝗿 𝗚𝗲𝗮𝗿.

The trucks sits here beside their current Volvo FMX 4X4 (pictured) and follows a previous generation FMX Tridem which proved to be an exceptional performer in this demanding operation.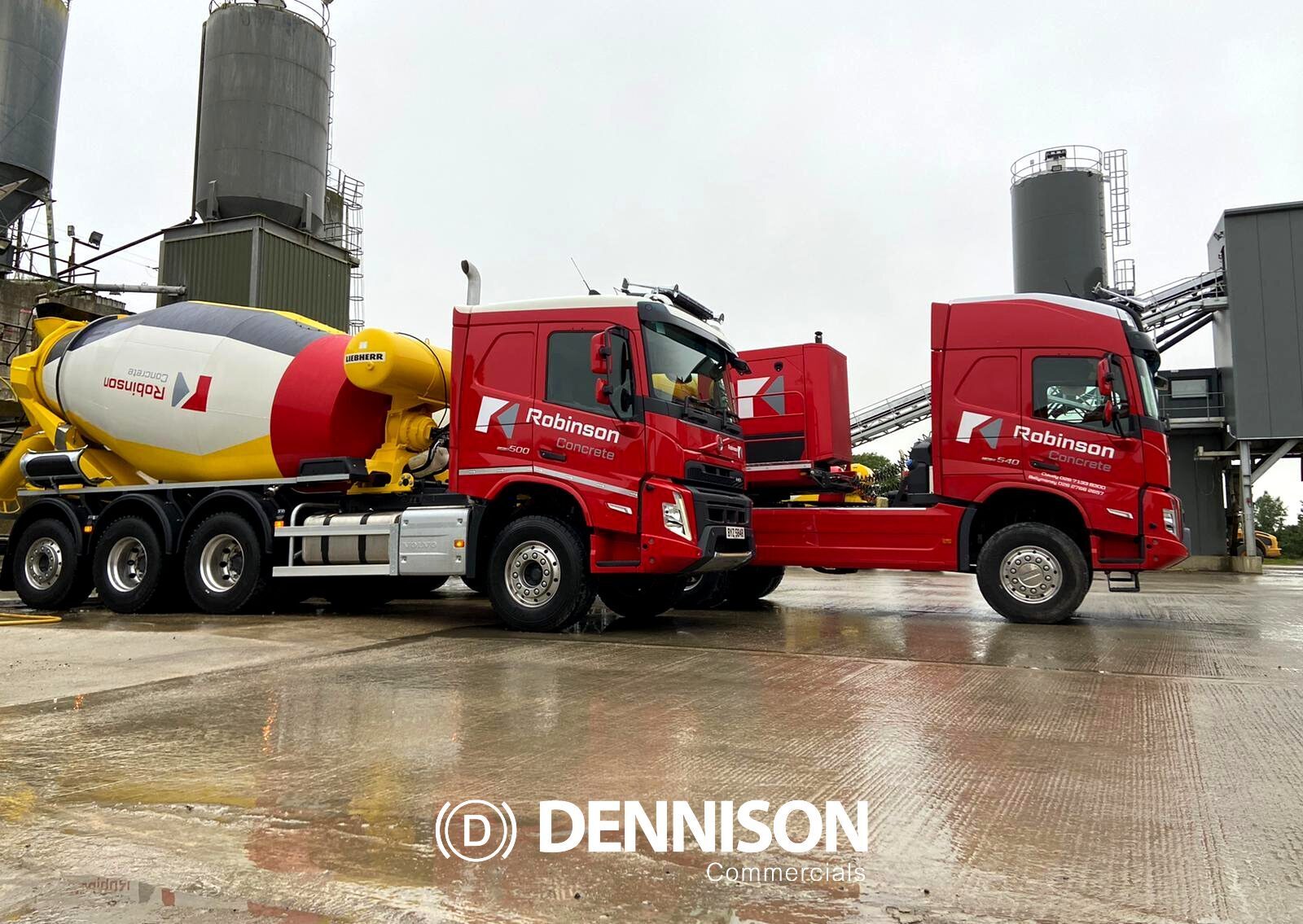 𝗞𝗶𝘁𝘁𝗲𝗱 𝗼𝘂𝘁 𝘄𝗶𝘁𝗵 𝗳𝗲𝗮𝘁𝘂𝗿𝗲𝘀, 𝘁𝗵𝗲 𝘁𝗿𝘂𝗰𝗸 𝗰𝗼𝗺𝗲𝘀 𝘄𝗶𝘁𝗵...

🔥 New Model Sleeper Cab with Cab Air Suspension
🔥 Volvo Dynamic Steering System with Driver Personal Settings System
🔥 Factory Fitted Michelin tyres on Alcoa DuraBrite Alloy Wheels
🔥 9T Rated Front Axle
🔥 New Media Package with Side Touchscreen
🔥 Volvo Passenger View Camera & Factory Reversing Camera integrated with Dash Displays
𝗔𝗳𝘁𝗲𝗿 𝗳𝘂𝗹𝗹 𝗱𝗿𝗶𝘃𝗲𝗿 𝗵𝗮𝗻𝗱𝗼𝘃𝗲𝗿 𝘄𝗶𝘁𝗵 𝗼𝘂𝗿 𝗵𝗮𝗻𝗱𝗼𝘃𝗲𝗿 𝗺𝗮𝗻𝗮𝗴𝗲𝗿, 𝗝𝗼𝗵𝗻 𝗝𝗼𝗵𝗻𝘀𝘁𝗼𝗻, 𝘁𝗵𝗲 𝘁𝗿𝘂𝗰𝗸 𝘄𝗮𝘀 𝗽𝘂𝘁 𝘀𝘁𝗿𝗮𝗶𝗴𝗵𝘁 𝘁𝗼 𝘄𝗼𝗿𝗸 𝗱𝗲𝗹𝗶𝘃𝗲𝗿𝗶𝗻𝗴 𝗰𝗼𝗻𝗰𝗿𝗲𝘁𝗲 𝘁𝗼 𝗮 𝗯𝗶𝗴 𝗽𝗼𝘂𝗿!

Massive thanks to Gareth, Matthew, Scott and all at Robinson's for once again trusting us to supply their latest top specification truck. 🤝