END OF YEAR STOCK CLEARANCE AUCTION!
Dec 08, 2022 @ 09:16
As we approach the end of 2022, we're celebrating by launching our BIGGEST EVER stock clearance event!
We're auctioning of this HUGE trailer filled with truck parts and components for ALL makes and models - worth over £38,000 RRP!
BIDDING STARTS AT £5000!
Scroll down to browse the full catalogue of parts included in the mega bundle.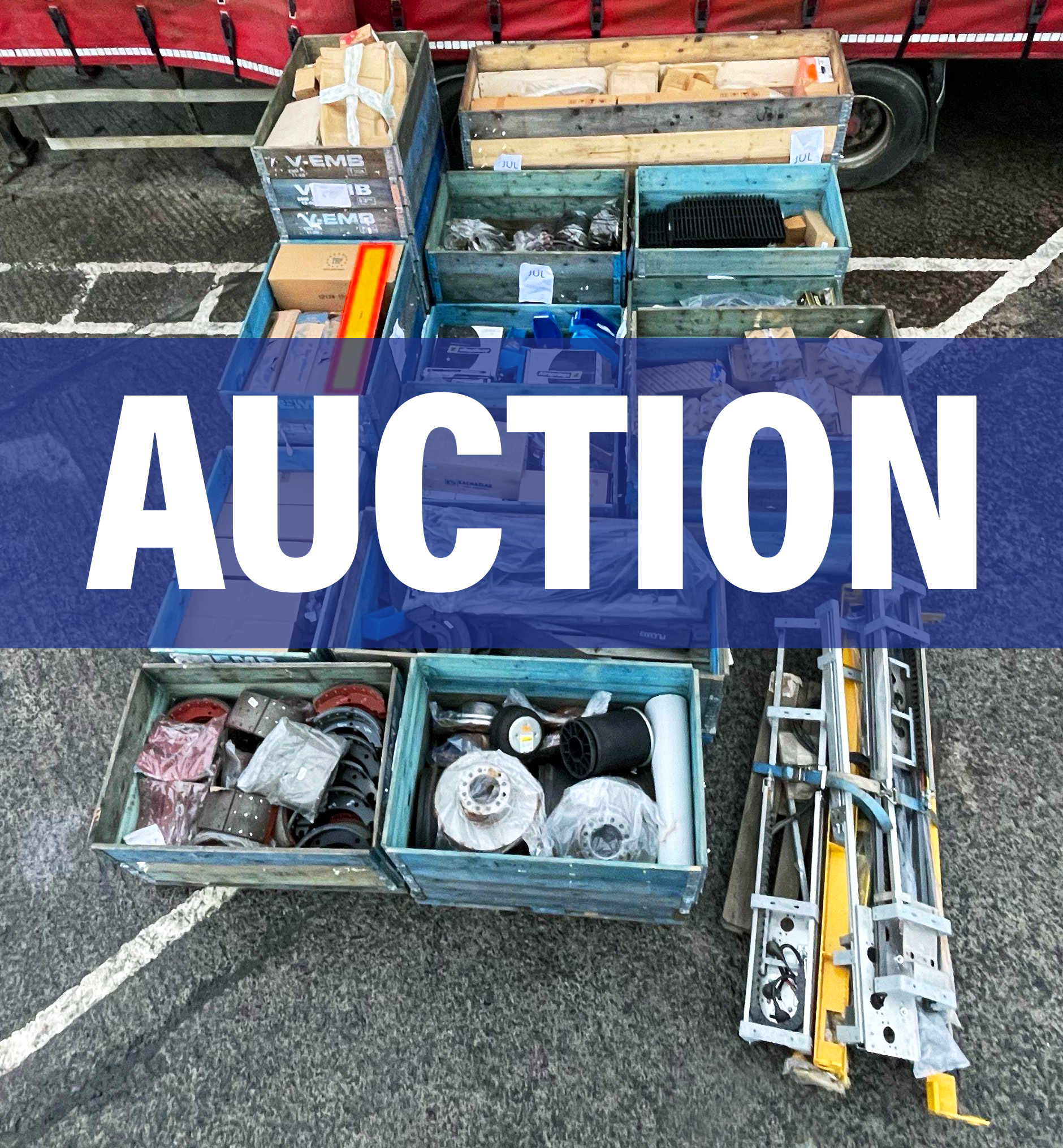 To submit your bid click here!

For a full list of parts included - see the catalogue below.
Terms and Conditions Apply
Auction starts Thursday 8th December and ends on Wednesday 14th December at 12pm.
Payment: Without exception, all accounts must be settled in full three working days from the end of the sale. We accept bank transfer (details will be sent following the sale), chip and pin or cash.
Dennison Commercials is not bound to accept the highest Bid or any other Bid placed in the course of the Auction.

Delivery: Free delivery within a 50 mile radius of the depot, otherwise delivery charges apply.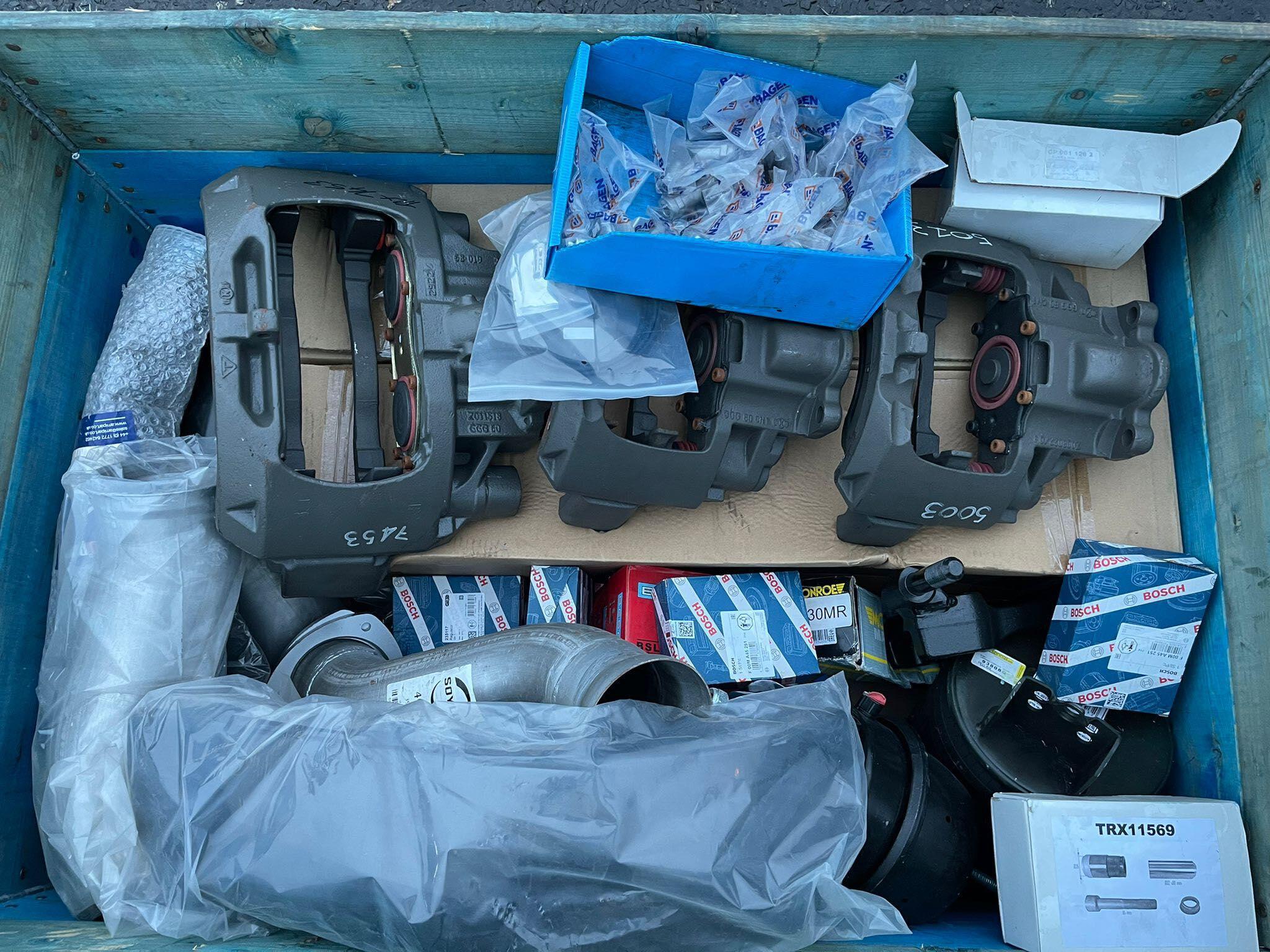 | | | |
| --- | --- | --- |
| Part Number | Description | Qty to pick |
| TF1013818 | ford bulb | 1 |
| AD160/GA1 | Mavis Rail Tescos | 1 |
| DPM90EY | scania / iveco control valve | 1 |
| 566834.H195 | Wheel Bearing Daf | 1 |
| AXLBF10-12-COM | King Pin Kit ROR. | 1 |
| 64/01/00 | lamp | 1 |
| 86068 | r/h lens with reverse | 1 |
| 6991 | AMBER LENS | 1 |
| 21219302 | Camshaft Short S-Cam | 1 |
| 2262094302 | CAMSHAFT SAF | 1 |
| K001915 | Brake Caliper Kit | 1 |
| II36227 | raise/lower valve | 1 |
| 05.266.47.06.0 | HUB NUT | 1 |
| CVP023K | Brake pads Dennis/Cummins29090 | 1 |
| KLTJ0310 | M20X125 BOLT | 1 |
| TG3288 | 5/8 str conn | 1 |
| P7012 | m20 x 200mm bolt | 1 |
| A3044 | Dust Cover ROR LM | 1 |
| EBS90554614 | pneumatic 3way valve | 1 |
| 21221070S | camshaft | 1 |
| 21227883R | R/H SPRING SEAT | 1 |
| 21227883L | spring seat lh | 1 |
| 950364807 | Modulator Valve R/H Trailer | 1 |
| 950364806 | Modulator Valve R/H Trailer | 1 |
| A7380 | Fitting Turn Table M16xM16 | 1 |
| 21225155 | Pivot Bolt ROR (LM) | 1 |
| 352067001 | Trailer con/module | 1 |
| 98.001.31064 | OIL SPINNER KIT SCANIA | 1 |
| M2024 | arm toe guard sk | 1 |
| M4235.050 | cyl head | 1 |
| E0261 | TRIP SWITCH DHOLLANDIA | 1 |
| FKSL01.S | return hose tank set | 1 |
| HB472 | H/LAMP BULB | 1 |
| TRX7453 | DAF XF105 Caliper | 1 |
| RBT85105502 | ABS Sensor | 1 |
| KV12.12537 | Bumper Cover RH Smooth | 1 |
| 93808G | airspring | 1 |
| AM7767 | Scania Nox Sensor | 1 |
| NWX0486204017 | Channel Module EBS | 1 |
| FSS09912900 | Scania Clutch Clyinder | 1 |
| 53330MR | Monroe Cab Shocks | 1 |
| 2540 | LENS | 1 |
| HM1 | height ind 155mmx 125mm | 1 |
| 056259C | LOCKER LAMP | 1 |
| K026896B90 | Spring B/Cyl 16/24 | 1 |
| LCAKB-L2567A | clutch kit | 1 |
| RAL0030 | alternator 24v 110a | 1 |
| APV3235 | V-Ribbed Belt | 1 |
| K10.04104 | 3rd Gear | 1 |
| AM9830 | SUN VISOR MTG KIT | 1 |
| GL21962929 | load sensing valve | 1 |
| AM7253 | GEAR KNOB | 1 |
| AM5308 | Scania Sunvisor Lamp | 1 |
| K10.04263 | Main Shaft | 1 |
| GL85115619 | Drag Link | 1 |
| 4031000H | Turbo | 1 |
| 06112-001 | Hosta Ram (Front) | 1 |
| Y0106085 | Compressor Yumak | 1 |
| RML0337 | m50 lamp holder | 1 |
| 13-5626-724 | conn assy 7 pin | 1 |
| 85454A | M311 LED LAMP | 1 |
| 9073302300 | A FRAME REPAIR KIT | 1 |
| 1382033 | starter motor | 1 |
| 4491720900 | supply cable | 1 |
| 03.189.07.58.0 | ABS Sensor Bkt BPW | 1 |
| 585700180 | PIVOT BOLY ASSY | 1 |
| VRW082 | TORSION SPRING | 1 |
| 295201 | toggle switch | 10 |
| J2076 | ADAPTER | 10 |
| 9902010284 | WHEEL BOLT | 10 |
| MMN6298302 | Scania Rear Shock Absorber | 10 |
| MMN6578303 | Scania shock aborber | 10 |
| 30275GL | Wear Sensor | 10 |
| VLFIX112 | TRIM CLIP | 102 |
| D7525 | Mudguard clamp 1 7/8" | 11 |
| 144700380 | return spring | 11 |
| 27900A | Marker Lamp LED | 11 |
| MMN7398304 | Scania Shock Absorber | 12 |
| A2590 | wire rope clamp 6mm | 12 |
| 7690 | green lens | 13 |
| DSE070.40 | seal kit | 13 |
| 21209990 | BUSHES SHORT CAM | 14 |
| 99510004 | Washer ROR Air bag nut. | 15 |
| 14017A | brake disc solid | 16 |
| AA52999 | Iveco Bearing | 16 |
| KV12.12155 | Corner Panel LH | 18 |
| AD160/S/ELE/10 | Mavis Rail (Short) | 2 |
| 463DIN0711 | LH TAIL-LAMP | 2 |
| AZA493 | AIR-HD ROUND | 2 |
| 3184 | LENS | 2 |
| 1231 | MARKER LENS N50 | 2 |
| 7806 | ref/lens m56 | 2 |
| CVP016 | don cvbrake pads29065 | 2 |
| RFA0001 | Compression Spring | 2 |
| 21212549 | Air Bag ROR / Small bag | 2 |
| 27047009 | knob | 2 |
| GADOJR07/04 | STRAP+BKT | 2 |
| 21211378 | Gasket Hub Cover TM ROR | 2 |
| 03.189.07.59.0 | abs sensor brk | 2 |
| 352044001 | park&shunt valve | 2 |
| A1665 | camshaft kit | 2 |
| FM47118 | RUBBER | 2 |
| M1928.35.40 | bush 35/28 x 40mm | 2 |
| TRX11569 | Caliper Kit | 2 |
| TRX5013 | LH Caliper Merc Atego | 2 |
| AMI9150 | side bumper rh steel | 2 |
| AM7193 | DAF / MERC AdBlue Cap | 2 |
| AM9812 | spoiler centre | 2 |
| S46737 | Exhaust Pipe | 2 |
| AM9751 | LH corner deflector DAF | 2 |
| 03.032.26.62.0 | Spring seat | 2 |
| 03.345.23.09.0 | SEGMENT BPW | 2 |
| 03.164.35.01.0 | SHAPED PLATE | 2 |
| BO.08.070 | EYE BOLT | 2 |
| E0815 | PUSH BUTTON TM | 2 |
| M1735115 | PIN | 2 |
| M4240.070.A | end cap ram 40/70 | 2 |
| RBP0014 | brake pad kit | 2 |
| 27001A | DAF CF H/LAMP CORNER | 2 |
| AM5246G | REAR LIGHT | 2 |
| AM9874 | ACTROS MP4 M/GUARD TOP | 2 |
| AM9750 | Daf Corner Deflector | 2 |
| AP007882C | relay edc heater motor 50amp | 2 |
| 21006610 | CAM ROLLER | 2 |
| RCE0781 | HOLDER | 2 |
| 0-657-30 | PUSH BUTTON RED | 2 |
| 78836-2C | DAF Airspring | 24 |
| 142.005-00 | ball joint | 3 |
| MDP3171K | brake pad kit | 3 |
| RAF0001 | R SERIES SCANIA AIR FILTER | 3 |
| 25811 | ball joint lh thread | 3 |
| RBP0002 | Fitting Kit / Performance Fric | 3 |
| VOL01.685.560 | Anti Spray (26 Vane) | 3 |
| NSR740103 | RADIATOR SEALER | 3 |
| 21971 | ADJUSTING SLEEVE | 3 |
| 21224037 | STUD ADAPTOR 1/4 BSP | 3 |
| 1901 | CONNECTOR FEMALE Q/Release | 3 |
| KV12.12137 | Headlamp Housing RH | 3 |
| 20005280 | Scania Fan Drive PGR Series | 3 |
| DINMOUNT | mounting | 3 |
| CAP086.330-00 | 13 LTR BRAKE PADS | 4 |
| 3554 | CLEAR LENS | 4 |
| 1744 | NO 22 R/C LENS | 4 |
| 21224759 | GASKET | 4 |
| 18022 | frame nipple | 4 |
| HAT-71 | FITTING KIT | 4 |
| 21222221 | Tracking Bush | 4 |
| A0275 | 1/2"npt sleeve | 4 |
| M1730200 | PIN | 4 |
| 27674A | DAF LF DEFLECTOR RH | 4 |
| MMN6778301 | Scania Shock Absorber | 4 |
| ISPI1000 | I-Spi GPS1000 | 4 |
| 0-657-50 | SPLASHPROOF BOOT | 4 |
| BB1868668 | Wheel Stud | 40 |
| SUS1 | torque armbush&bolt | 5 |
| 7675 | BEZEL | 5 |
| 21220171 | ROLL PIN | 5 |
| 233117 | ALT REGULATOR | 5 |
| 99544001PK10 | Nut ROR Air Bag | 6 |
| 21222287 | TRACKING BUSH ROR | 6 |
| 21225103 | Pivot Bush ROR (LM) | 6 |
| VRO12 | spring | 6 |
| M0873 | ROLLER | 6 |
| FM0874.BK | sliding block Black | 6 |
| FM124R01000 | Water Pump | 6 |
| TG3153 | 10mm inserts | 66 |
| H6319/D | COWBELL SOCKET | 7 |
| PAT85139619 | Pressure Sensor | 7 |
| 26416A | DAF XF105 W/ANGLE MIRROR | 7 |
| 99528001 | Nut ROR (Top air bag fitting) | 7 |
| 238711 | sleeve | 8 |
| 1022RED | RED KNOB | 8 |
| 03.113.01.46.0 | Bush BPW | 8 |
| M0198.1 | bracket | 8 |
| PC5/1 | COWBELL SOCKET | 8 |
| 14470050000 | ret spring | 8 |
| 21227146 | BOLT FOR CALIPER | 9 |
| Q625220 | equal tees 8mm | 9 |
| OTPV3680 | Rear Mudguard Tensioner | 86 |
| 3225A | lens | 1 |
| 79005D | SES SLACK ADJ SET | 1 |
| RWT0011 | M/GUARD STRAP MERC | 12 |
| AM5248G | REAR LIGHT WITH ALARM | 2 |
| A01451R | METRIC FEMALE VALVE | 3 |
| 21221224 | ROR RETURN SPRING | 36 |
| F103435 | main pipe 5/16 | 4 |
| RTB0263 | MARKER BOARD TYPE 4 | 6 |
| 21008062-3 | dust cover | 7 |
| S46678 | Exhaust Pipe | 6 |
| HI1911002 | DAF Expansion Tank | 8 |
| BM391 | VARIO HARDY SPICER | 2 |
| TRXMNE1110 | CRAFTER REAR DISC | 2 |
| OTPV4340 | Sunvisor | 3 |
| HLK6210 | spring | 4 |
| PQ0012 | suzie retainer | 2 |
| 1774 | CLEAR LENS | 4 |
| 104007 | filter | 1 |
| C911X-2 | Ventilator/Oil Blow By Filter | 3 |