Dennison Commericals sponsor Elmer's Big Belfast Trail this summer
Apr 08, 2022 @ 11:42
𝗚𝗲𝗮𝗿𝗶𝗻𝗴 𝘂𝗽 𝘁𝗼 𝗯𝗿𝗶𝗻𝗴 𝘀𝗺𝗶𝗹𝗲𝘀 𝘄𝗵𝗲𝗿𝗲𝘃𝗲𝗿 𝗶𝘁 𝗴𝗼𝗲𝘀 𝗶𝘀 𝗼𝘂𝗿 𝗻𝗲𝘄 𝗹𝗼𝗼𝗸 𝗥𝗲𝗻𝘁𝗮𝗹𝘀 𝘁𝗿𝘂𝗰𝗸, 𝗰𝗼𝗹𝗼𝘂𝗿𝗳𝘂𝗹𝗹𝘆 𝗱𝗲𝗰𝗼𝗿𝗮𝘁𝗲𝗱 𝗶𝗻 𝗘𝗹𝗺𝗲𝗿 𝗶𝗻𝘀𝗽𝗶𝗿𝗲𝗱, 𝗽𝗮𝘁𝗰𝗵𝘄𝗼𝗿𝗸 𝗺𝗮𝗿𝗸𝗶𝗻𝗴𝘀 𝘁𝗼 𝗵𝗲𝗹𝗽 𝗯𝗿𝗶𝗻𝗴 𝗮𝘄𝗮𝗿𝗲𝗻𝗲𝘀𝘀 𝘁𝗼 𝘁𝗵𝗲 𝗵𝗼𝘀𝗽𝗶𝗰𝗲'𝘀 𝗹𝗮𝘁𝗲𝘀𝘁 𝗳𝘂𝗻𝗱𝗿𝗮𝗶𝘀𝗶𝗻𝗴 𝗰𝗮𝗺𝗽𝗮𝗶𝗴𝗻.
The bold and eye-catching truck is part of our Dennison Rentals Spot Hire fleet and will be available to customers who need cover for servicing or require extra fleet support during busier periods or when trialling new work.
The truck will travel with various local hauliers all over the country and may be spotted with the Elmer branding across Northern Ireland, Republic of Ireland and Great Britain.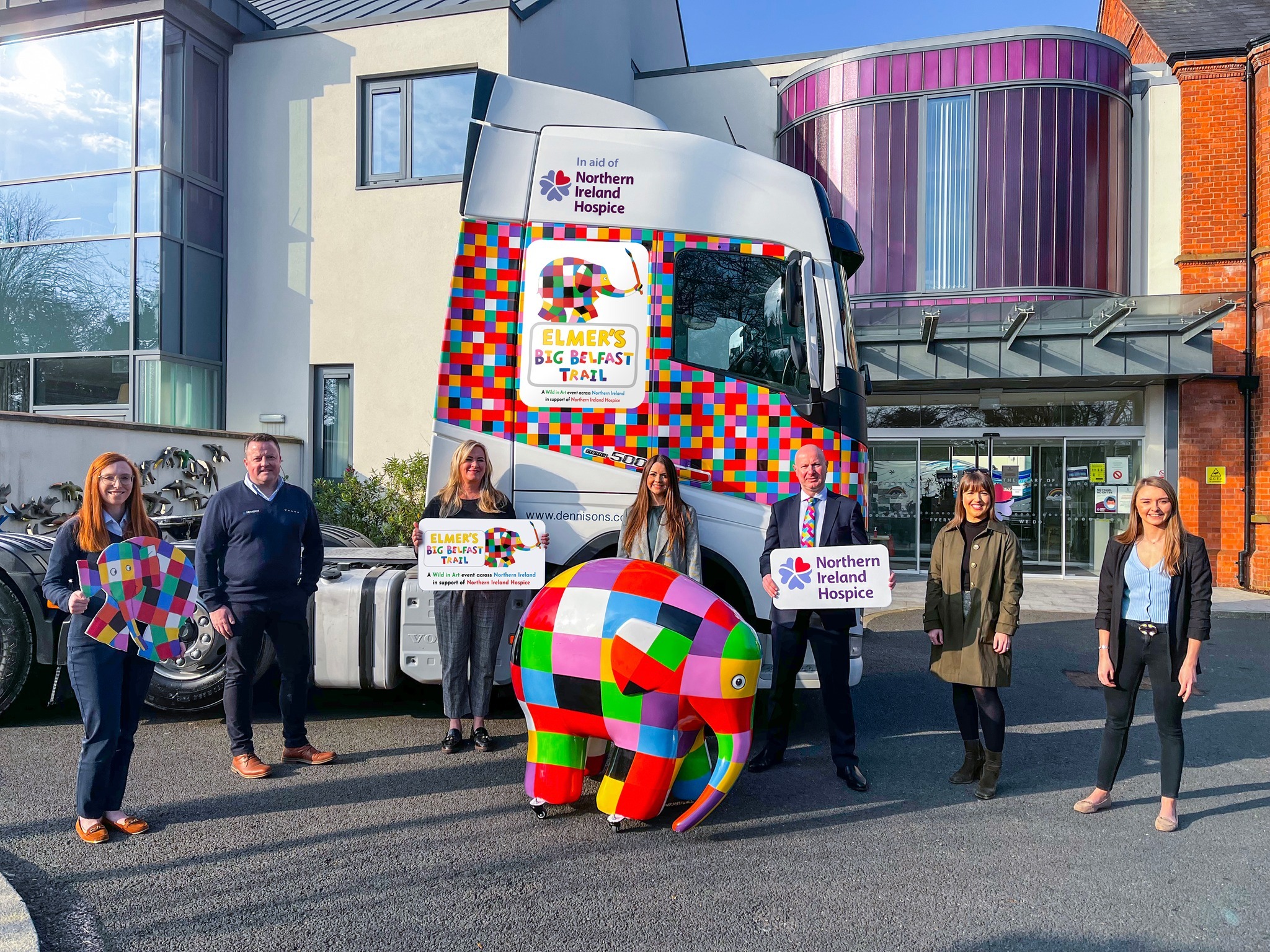 𝗗𝗲𝗻𝗻𝗶𝘀𝗼𝗻 𝗖𝗼𝗺𝗺𝗲𝗿𝗰𝗶𝗮𝗹𝘀 𝗗𝗶𝗿𝗲𝗰𝘁𝗼𝗿, 𝗞𝗮𝘁𝗿𝗶𝗻𝗮 𝗗𝗲𝗻𝗻𝗶𝘀𝗼𝗻, 𝘀𝗮𝗶𝗱: "𝗢𝘃𝗲𝗿 𝘁𝗵𝗲 𝗹𝗮𝘀𝘁 𝗰𝗼𝘂𝗽𝗹𝗲 𝗼𝗳 𝘆𝗲𝗮𝗿𝘀, 𝘄𝗲 𝗵𝗮𝘃𝗲 𝗯𝗲𝗲𝗻 𝗶𝗻𝗰𝗿𝗲𝗱𝗶𝗯𝗹𝘆 𝗽𝗿𝗼𝘂𝗱 𝘁𝗼 𝘀𝘂𝗽𝗽𝗼𝗿𝘁 𝗡𝗼𝗿𝘁𝗵𝗲𝗿𝗻 𝗜𝗿𝗲𝗹𝗮𝗻𝗱 𝗛𝗼𝘀𝗽𝗶𝗰𝗲 𝗶𝗻 𝘁𝗵𝗲 𝗳𝗮𝗻𝘁𝗮𝘀𝘁𝗶𝗰 𝘄𝗼𝗿𝗸 𝘁𝗵𝗮𝘁 𝘁𝗵𝗲𝘆 𝗱𝗼 𝗶𝗻 𝗽𝗿𝗼𝘃𝗶𝗱𝗶𝗻𝗴 𝘀𝗽𝗲𝗰𝗶𝗮𝗹𝗶𝘀𝘁 𝘀𝗲𝗿𝘃𝗶𝗰𝗲𝘀 𝗮𝗻𝗱 𝗲𝘀𝘀𝗲𝗻𝘁𝗶𝗮𝗹 𝗰𝗮𝗿𝗲 𝘁𝗼 𝗶𝗻𝗱𝗶𝘃𝗶𝗱𝘂𝗮𝗹𝘀 𝗮𝗻𝗱 𝗳𝗮𝗺𝗶𝗹𝗶𝗲𝘀 𝗮𝗰𝗿𝗼𝘀𝘀 𝘁𝗵𝗲 𝗽𝗿𝗼𝘃𝗶𝗻𝗰𝗲.
"𝗢𝘂𝗿 𝘁𝗲𝗮𝗺 𝗶𝘀 𝗲𝘅𝗰𝗶𝘁𝗲𝗱 𝘁𝗼 𝘂𝗻𝘃𝗲𝗶𝗹 𝗼𝘂𝗿 𝗗𝗲𝗻𝗻𝗶𝘀𝗼𝗻 𝗥𝗲𝗻𝘁𝗮𝗹𝘀 𝗩𝗼𝗹𝘃𝗼 𝗧𝗿𝘂𝗰𝗸 𝗱𝗲𝗰𝗼𝗿𝗮𝘁𝗲𝗱 𝗶𝗻 𝘀𝘂𝗽𝗽𝗼𝗿𝘁 𝗼𝗳 𝗘𝗹𝗺𝗲𝗿'𝘀 𝗕𝗶𝗴 𝗕𝗲𝗹𝗳𝗮𝘀𝘁 𝗧𝗿𝗮𝗶𝗹. 𝗪𝗲 𝗵𝗼𝗽𝗲 𝘁𝗵𝗲 𝘁𝗿𝘂𝗰𝗸 𝘄𝗶𝗹𝗹 𝗯𝗿𝗶𝗻𝗴 𝗮𝘄𝗮𝗿𝗲𝗻𝗲𝘀𝘀 𝗮𝗻𝗱 𝘀𝗺𝗶𝗹𝗲𝘀 𝘄𝗵𝗲𝗻 𝗶𝘁'𝘀 𝘀𝗽𝗼𝘁𝘁𝗲𝗱 𝗼𝘂𝘁 𝗼𝗻 𝘁𝗵𝗲 𝗿𝗼𝗮𝗱!"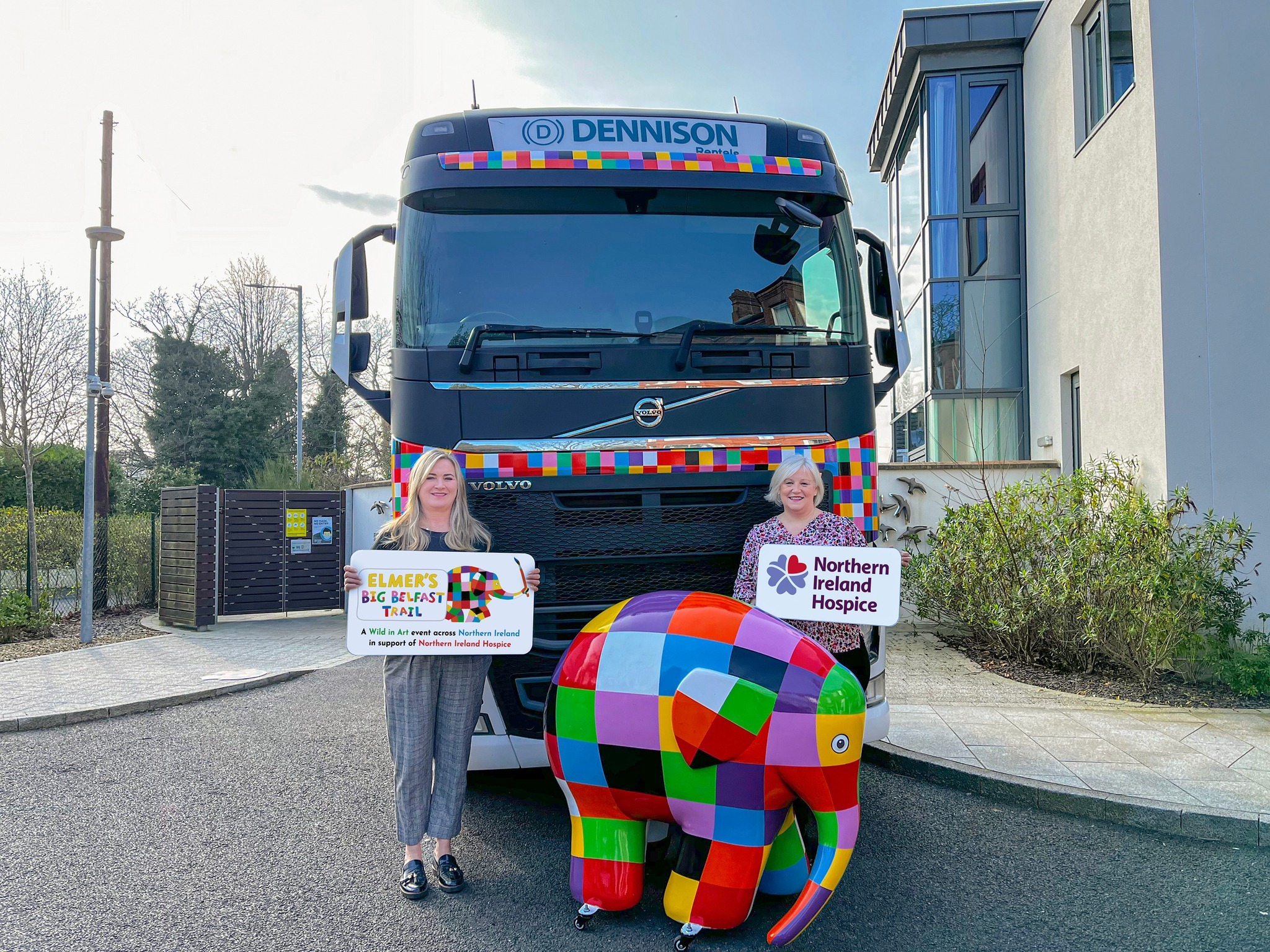 Click here to read more of the story >>> https://www.elmerbelfast.co.uk/elmers-big-belfast-trail.../
𝗘𝗬𝗘 𝗦𝗣𝗬 𝗘𝗟𝗠𝗘𝗥 𝗧𝗥𝗨𝗖𝗞 𝗖𝗢𝗠𝗣𝗘𝗧𝗜𝗧𝗜𝗢𝗡!
If you spot our Elmer Rentals Truck out on the road...send us your photos to be entered into our prize draw to
#WIN
a Dennison Rentals Goodie Bag!
Send your photos to us by directly messaging our Facebook page or emailing marketing@dennisons.co.uk
*Terms and Conditions Apply