Ask an Apprentice - Curtis McComish
May 13, 2021 @ 10:33
𝗪𝗶𝘁𝗵 𝗼𝘂𝗿 𝟮𝟬𝟮𝟭 𝗗𝗲𝗻𝗻𝗶𝘀𝗼𝗻 𝗔𝗽𝗽𝗿𝗲𝗻𝘁𝗶𝗰𝗲𝘀𝗵𝗶𝗽 𝗦𝗰𝗵𝗲𝗺𝗲 𝗻𝗼𝘄 𝗼𝗳𝗳𝗶𝗰𝗶𝗮𝗹𝗹𝘆 𝗼𝗽𝗲𝗻, 𝘄𝗲 𝘁𝗵𝗼𝘂𝗴𝗵𝘁 𝘄𝗲'𝗱 𝗴𝗿𝗮𝗯 𝗮 𝗹𝗶𝘁𝘁𝗹𝗲 𝗰𝗮𝘁𝗰𝗵-𝘂𝗽 𝘄𝗶𝘁𝗵 𝗮 𝗳𝗲𝘄 𝗼𝗳 𝗼𝘂𝗿 𝗵𝗮𝗿𝗱-𝘄𝗼𝗿𝗸𝗶𝗻𝗴 𝗮𝗽𝗽𝗿𝗲𝗻𝘁𝗶𝗰𝗲𝘀 𝗮𝘁 𝘀𝗼𝗺𝗲 𝗼𝗳 𝗼𝘂𝗿 𝗗𝗲𝗻𝗻𝗶𝘀𝗼𝗻 𝗹𝗼𝗰𝗮𝘁𝗶𝗼𝗻𝘀 𝘁𝗵𝗿𝗼𝘂𝗴𝗵𝗼𝘂𝘁 𝗡𝗜!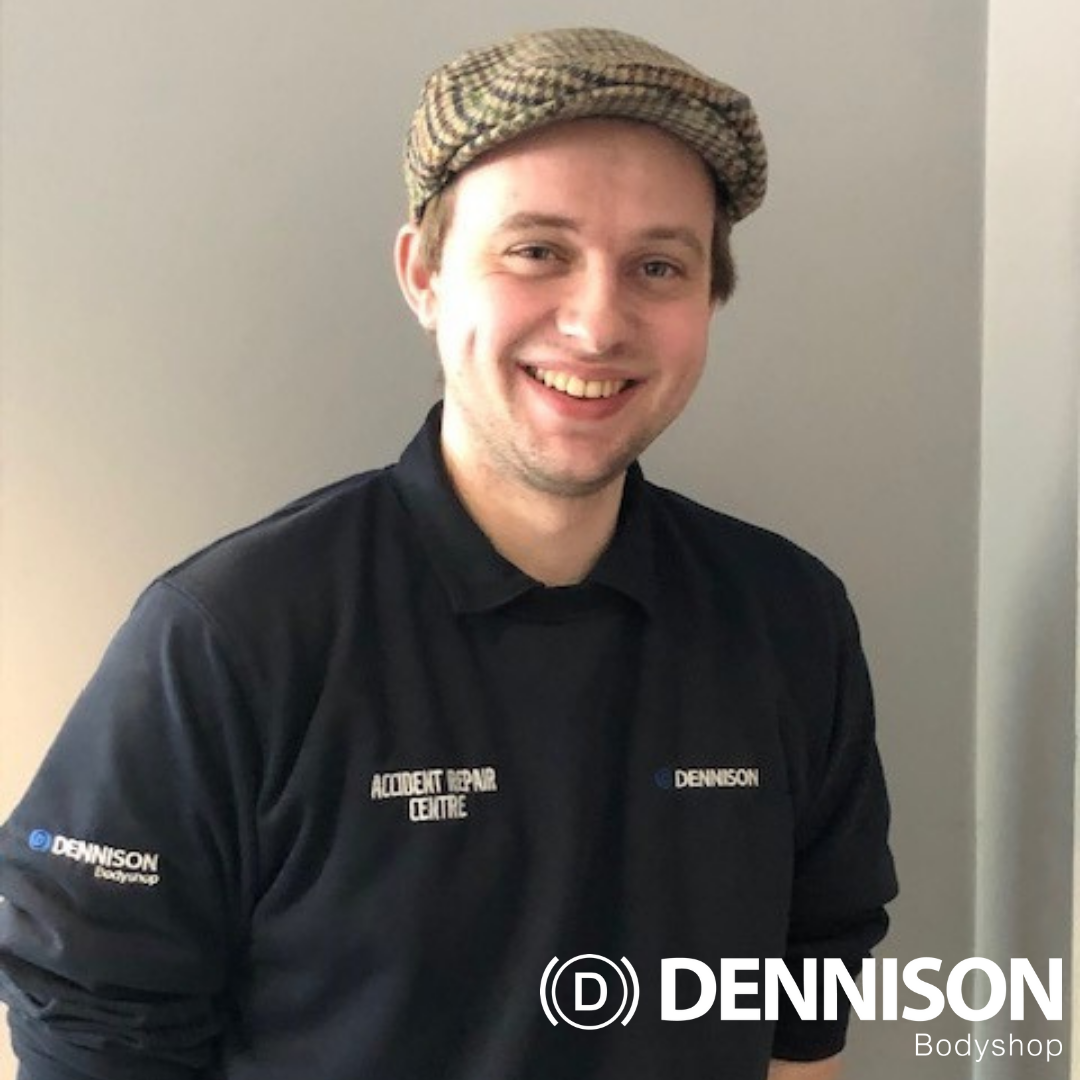 First up is Bodyshop Apprentice, Curtis McComish! Curtis is just finishing up his second year before commencing his third year apprenticeship with us! In his spare time, he loves tinkering with and driving cars, playing guitar and volunteers for a local war museum!
𝗛𝗼𝘄 𝗹𝗼𝗻𝗴 𝗵𝗮𝘃𝗲 𝘆𝗼𝘂 𝗯𝗲𝗲𝗻 𝗮𝗻 𝗮𝗽𝗽𝗿𝗲𝗻𝘁𝗶𝗰𝗲 & 𝘄𝗵𝗮𝘁 𝗱𝗼𝗲𝘀 𝘆𝗼𝘂𝗿 𝗿𝗼𝗹𝗲 𝗶𝗻𝘃𝗼𝗹𝘃𝗲?
"I have been with Dennison's Accident Repair Centre since July 2019. My role at the company involves a wide variety of tasks, such as panel repair, vinyl sticker removal, valeting, paint preparation, welding, cab swaps and similar such undertakings."
𝗪𝗵𝗮𝘁 𝘀𝗸𝗶𝗹𝗹𝘀 𝗵𝗮𝘃𝗲 𝘆𝗼𝘂 𝗱𝗲𝘃𝗲𝗹𝗼𝗽𝗲𝗱 𝗱𝘂𝗿𝗶𝗻𝗴 𝘆𝗼𝘂𝗿 𝘁𝗶𝗺𝗲 𝗮𝘁 𝗗𝗲𝗻𝗻𝗶𝘀𝗼𝗻𝘀?
"Whilst with Dennisons, I have learned how to better repair damaged body panels using pin pulling, body filler, and panel hammers. I have come to learn how to repair minor chassis damage to the rear section of a lorry, as well as identifying further accident damage."
𝗙𝗮𝘃𝗼𝘂𝗿𝗶𝘁𝗲 𝗮𝘀𝗽𝗲𝗰𝘁 𝗼𝗳 𝘄𝗼𝗿𝗸𝗶𝗻𝗴 𝘄𝗶𝘁𝗵𝗶𝗻 𝘁𝗵𝗲 𝗗𝗲𝗻𝗻𝗶𝘀𝗼𝗻 𝗕𝗼𝗱𝘆𝘀𝗵𝗼𝗽 𝘁𝗲𝗮𝗺?
"The general friendly nature and environment! You are never short of help or banter. I love working with and clambering over Heavy Good Vehicles and I do rather enjoy seeing vehicles I have worked on when attending car and truck shows!"
𝗪𝗵𝗮𝘁'𝘀 𝘆𝗼𝘂𝗿 𝗱𝗿𝗲𝗮𝗺 𝗷𝗼𝗯?
"I'd like to specialise in vehicle restoration within my current field, as I love to see old workhorses on the roads and enjoying a new lease of life!"
𝗔𝗻𝘆 𝗮𝗱𝘃𝗶𝗰𝗲 𝗳𝗼𝗿 𝘀𝗼𝗺𝗲𝗼𝗻𝗲 𝗰𝗼𝗻𝘀𝗶𝗱𝗲𝗿𝗶𝗻𝗴 𝗮 𝗗𝗲𝗻𝗻𝗶𝘀𝗼𝗻 𝗔𝗽𝗽𝗿𝗲𝗻𝘁𝗶𝗰𝗲𝘀𝗵𝗶𝗽?
"Go for it! You'll never know if it's right for you, unless you try for yourself!"
To apply or find out more about our 2021 Apprenticeship Scheme, click here!