Robinson Concrete take delivery of FIRST EVER custom, factory built FMX 540
Nov 16, 2021 @ 10:44
THREE WORDS: WOW! WOW! WOWWWW!
𝗪𝗵𝗲𝗿𝗲 𝗱𝗼 𝘄𝗲 𝗲𝘃𝗲𝗻 𝗯𝗲𝗴𝗶𝗻 𝘁𝗼 𝘁𝗲𝗹𝗹 𝘆𝗼𝘂 𝗮𝗹𝗹 𝗮𝗯𝗼𝘂𝘁 𝘁𝗵𝗶𝘀 𝗔𝗕𝗦𝗢𝗟𝗨𝗧𝗘𝗟𝗬 𝗣𝗛𝗘𝗡𝗢𝗠𝗘𝗡𝗔𝗟 𝗙𝗠𝗫 𝟱𝟰𝟬 𝗚𝗹𝗼𝗯𝗲𝘁𝗿𝗼𝘁𝘁𝗲𝗿 𝘁𝗵𝗮𝘁 𝗵𝗮𝘀 𝗷𝘂𝘀𝘁 𝗯𝗲𝗲𝗻 𝗱𝗲𝗹𝗶𝘃𝗲𝗿𝗲𝗱 𝘁𝗼 𝘁𝗵𝗲 Robinson Concrete Ltd / 𝗠𝗮𝘁𝘁𝗵𝗲𝘄 𝗥𝗼𝗯𝗶𝗻𝘀𝗼𝗻 & 𝗦𝗼𝗻𝘀 𝘁𝗲𝗮𝗺, 𝗮𝘁 𝘁𝗵𝗲𝗶𝗿 𝗛𝗤 𝗶𝗻 𝗖𝗹𝗮𝘂𝗱𝘆?!?!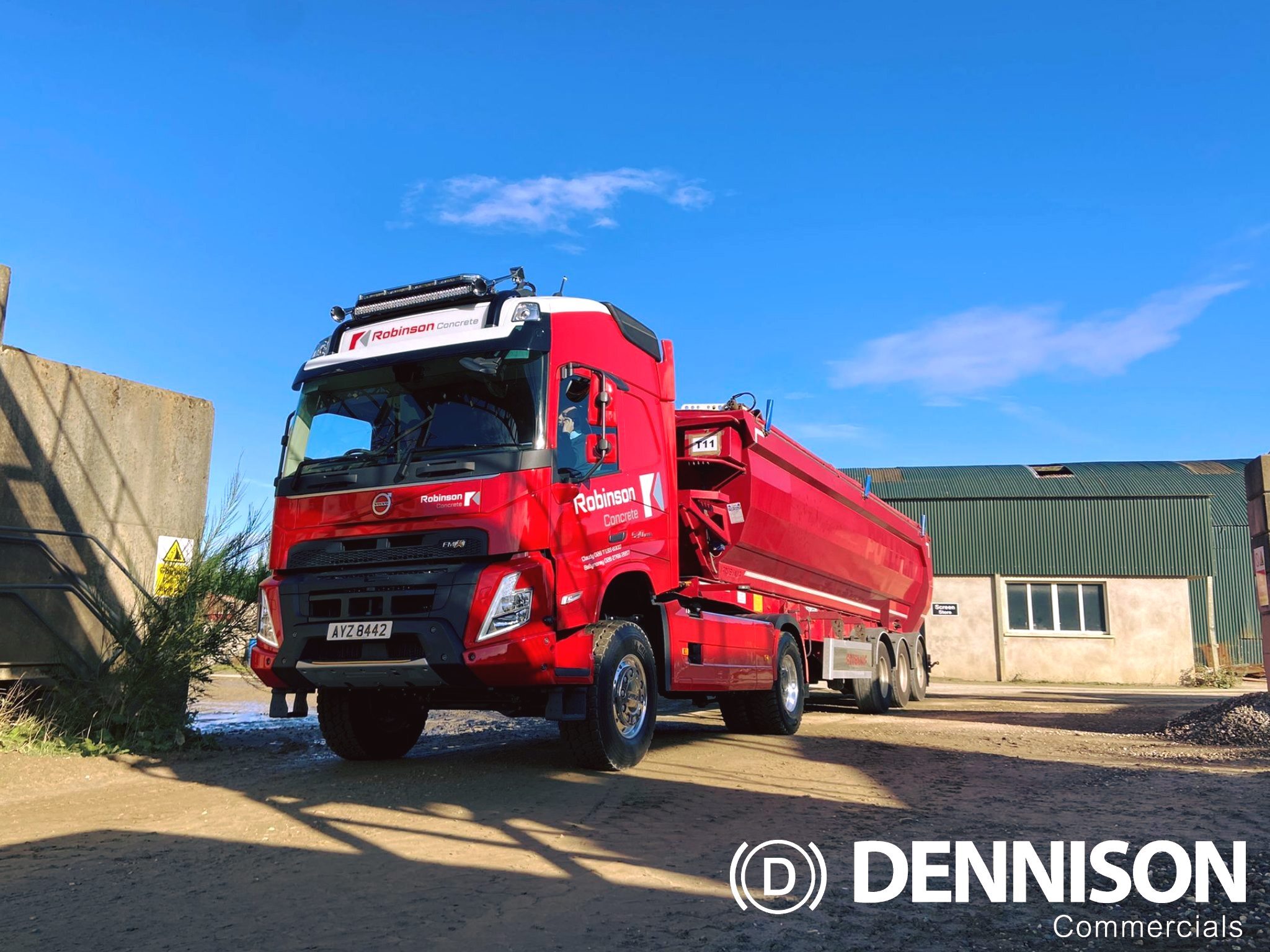 This one-of-a-kind truck is the FIRST EVER, Custom, Factory-Built, 4x4, Volvo Tractor Unit to EVER (yes…EVER!) be delivered in the UK & Ireland.
𝗧𝗵𝗲 𝘁𝗿𝘂𝗰𝗸 𝘄𝗶𝗹𝗹 𝗼𝗳𝗳𝗲𝗿 𝗶𝗻𝗰𝗿𝗲𝗮𝘀𝗲𝗱 𝗽𝗮𝘆𝗹𝗼𝗮𝗱, 𝗶𝗻𝗰𝗿𝗲𝗮𝘀𝗲𝗱 𝗽𝗿𝗼𝗱𝘂𝗰𝘁𝗶𝘃𝗶𝘁𝘆, 𝗶𝗺𝗽𝗿𝗼𝘃𝗲𝗱 𝗳𝗹𝗲𝘅𝗶𝗯𝗶𝗹𝗶𝘁𝘆 𝗮𝗻𝗱 𝗿𝗲𝗱𝘂𝗰𝗲𝗱 𝘁𝘂𝗿𝗻𝗶𝗻𝗴 𝗰𝗶𝗿𝗰𝗹𝗲 𝗼𝘃𝗲𝗿 𝘁𝗿𝗮𝗱𝗶𝘁𝗶𝗼𝗻𝗮𝗹, 𝟴𝘅𝟰 𝘁𝗿𝘂𝗰𝗸𝘀. 𝗪𝗵𝗶𝗹𝘀𝘁 𝘁𝗵𝗲 𝘁𝗿𝘂𝗰𝗸 𝘄𝗶𝗹𝗹 𝗽𝗿𝗶𝗺𝗮𝗿𝗶𝗹𝘆 𝗼𝗽𝗲𝗿𝗮𝘁𝗲 𝘄𝗶𝘁𝗵 𝗖𝘂𝘀𝘁𝗼𝗺 𝗠𝗶𝘅𝗲𝗿 𝗧𝗿𝗮𝗶𝗹𝗲𝗿𝘀, 𝗶𝘁 𝗮𝗹𝘀𝗼 𝗵𝗮𝘀 𝘁𝗵𝗲 𝗳𝗹𝗲𝘅𝗶𝗯𝗶𝗹𝗶𝘁𝘆 𝘁𝗼 𝘄𝗼𝗿𝗸 𝘄𝗶𝘁𝗵 𝗯𝗼𝘁𝗵 𝘁𝗶𝗽𝗽𝗲𝗿 𝗮𝗻𝗱 𝗯𝗹𝗼𝗰𝗸 𝗼𝗳𝗳 𝗹𝗼𝗮𝗱𝗲𝗿 𝘁𝗿𝗮𝗶𝗹𝗲𝗿𝘀.
Our team were ecstatic to handover this very exciting truck to Robinson Concrete… and after our handover specialist, John Johnston, conducted various tests with the driver – both on road and off road – we're delighted to say it EXCEEDED everyone's expectations!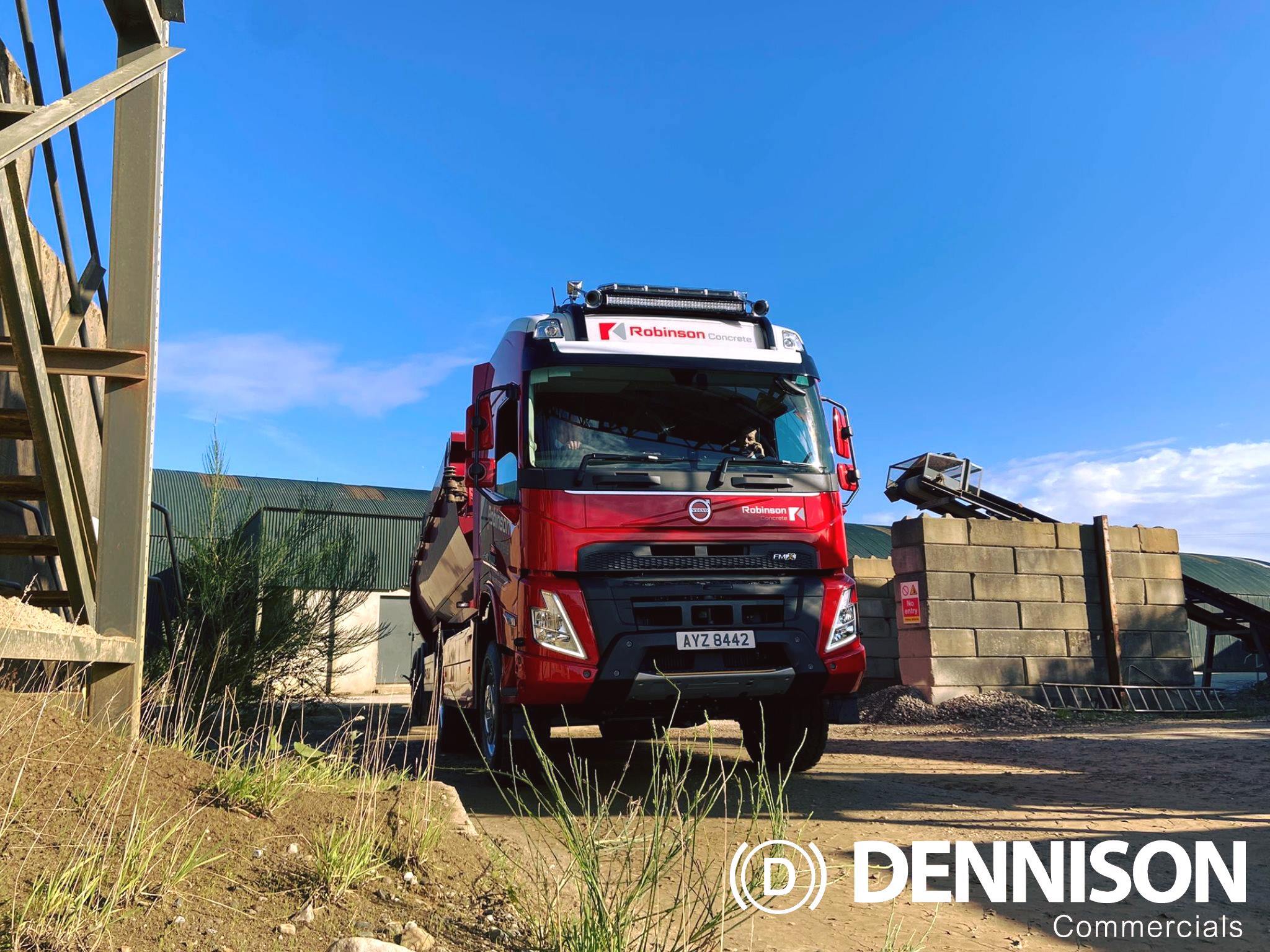 𝗡𝗼𝘄 𝘁𝗵𝗲 𝗳𝘂𝗻 𝗯𝗶𝘁! 𝗧𝗵𝗲 𝗻𝗲𝘄 𝗙𝗠𝗫 𝟱𝟰𝟬 𝗰𝗼𝗺𝗲𝘀 𝘄𝗶𝘁𝗵….
13Litre, 540HP Engine
Latest i-Shift with Crawler Gears & Construction/Off-Road Software
Selectable 4-Wheel Drive via Transfer Box
Hub Reduction Axles
Live Drive Engine PTO for Mixer Operations, as well as Gearbox PTO for Tipping/Crane
Hydraulics
Volvo Dynamic Steering System
Rear Air Suspension
Cab Air Suspension for Driver and On-Road Comfort
Touchscreen Infotainment Package with TomTom Truck Nav
Load Indicator System
New Passenger View Camera Mounted in Mirror Arm on Near Side 𝗔𝗱𝗱𝗶𝘁𝗶𝗼𝗻𝗮𝗹 𝗽𝗮𝗶𝗻𝘁 𝗮𝗻𝗱 𝗰𝗵𝗮𝘀𝘀𝗶𝘀 𝘀𝗶𝗱𝗲 𝘀𝗸𝗶𝗿𝘁𝘀 𝘄𝗲𝗿𝗲 𝗮𝗱𝗱𝗲𝗱 𝗯𝘆 𝗼𝘂𝗿 𝗗𝗲𝗻𝗻𝗶𝘀𝗼𝗻 𝗕𝗼𝗱𝘆𝘀𝗵𝗼𝗽 𝗮𝗻𝗱 𝗼𝘂𝗿 𝗗𝗲𝗻𝗻𝗶𝘀𝗼𝗻 𝗪𝗼𝗿𝗸𝘀𝗵𝗼𝗽 𝘁𝗲𝗮𝗺 𝗮𝗹𝘀𝗼 𝗳𝗶𝘁𝘁𝗲𝗱 𝗕𝗲𝗮𝗰𝗼𝗻𝘀, 𝗟𝗘𝗗 𝗟𝗶𝗴𝗵𝘁 𝗕𝗮𝗿 𝗮𝗻𝗱 𝗦𝘁𝗿𝗼𝗯𝗲 𝗟𝗶𝗴𝗵𝘁𝘀.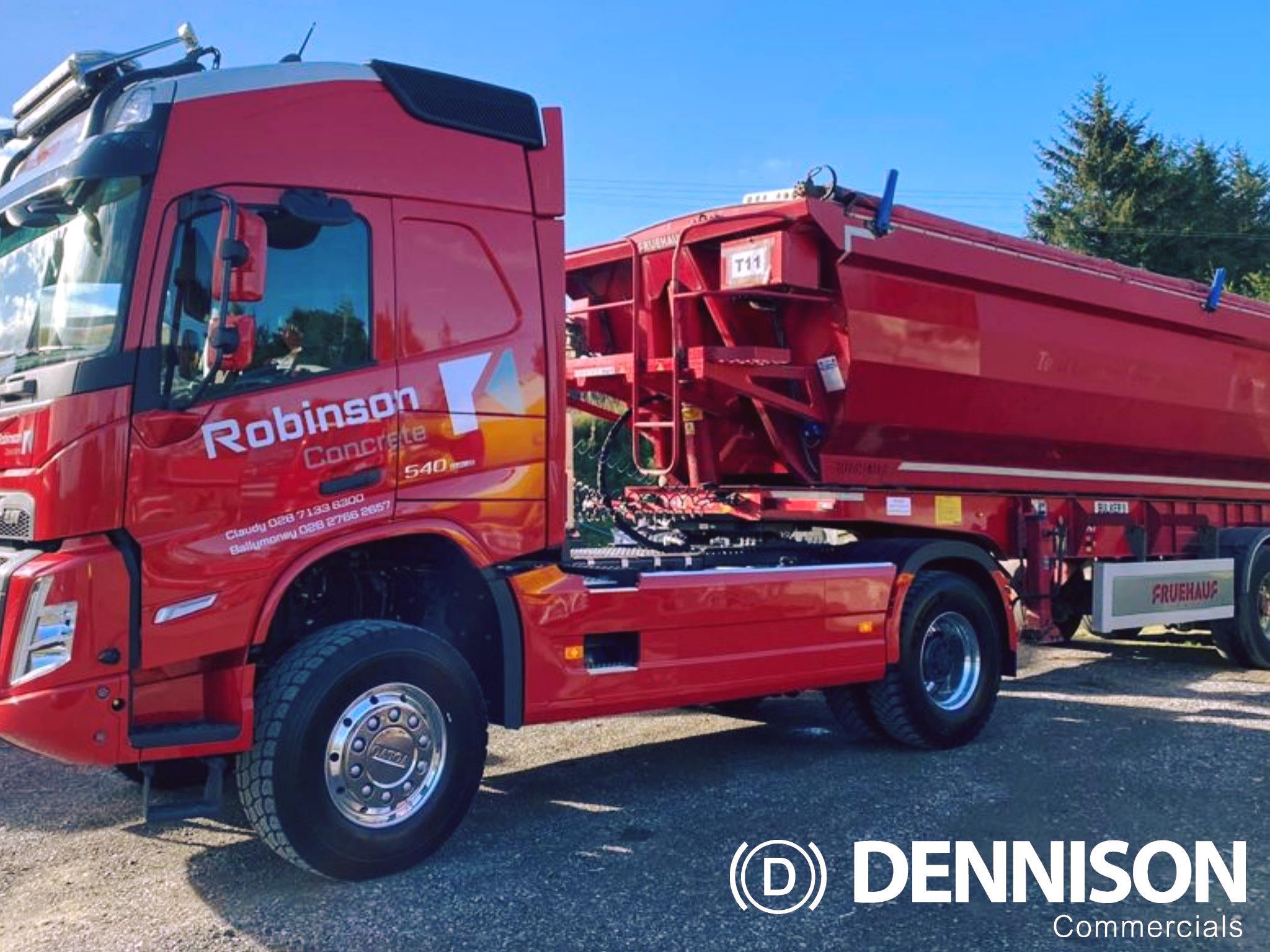 From concept to creation, the truck was a collective effort between Dennisons and Robinson Concrete, as well as S.M. Components Ltd who fitted the Tipping/Crane Hydraulics and Specialist Fifth Wheel, McIvor Mixers who added the specialist mixer power pack and Muldoon Transport Systems who built the custom, rear steer mixer trailer.
𝗜𝘁 𝘄𝗮𝘀 𝗮𝗻 𝗮𝗯𝘀𝗼𝗹𝘂𝘁𝗲 𝗽𝗹𝗲𝗮𝘀𝘂𝗿𝗲 𝘁𝗼 𝘄𝗼𝗿𝗸 𝘄𝗶𝘁𝗵 𝗥𝗼𝗯𝗶𝗻𝘀𝗼𝗻'𝘀 𝗼𝗻 𝘁𝗵𝗶𝘀 𝗳𝗮𝗻𝘁𝗮𝘀𝘁𝗶𝗰 𝗽𝗿𝗼𝗷𝗲𝗰𝘁 𝗮𝗻𝗱 𝘄𝗲 𝗮𝗿𝗲 𝗼𝘃𝗲𝗿 𝘁𝗵𝗲 𝗺𝗼𝗼𝗻 𝘁𝗼 𝗵𝗲𝗮𝗿 𝗵𝗼𝘄 𝗵𝗮𝗽𝗽𝘆 𝘁𝗵𝗲𝘆 𝗮𝗿𝗲 𝘄𝗶𝘁𝗵 𝘁𝗵𝗲𝗶𝗿 𝗻𝗲𝘄 𝗙𝗠𝗫 𝟱𝟰𝟬! 𝗕𝗲𝘀𝘁 𝗼𝗳 𝗹𝘂𝗰𝗸 𝘄𝗶𝘁𝗵 𝘁𝗵𝗲 𝗻𝗲𝘄 𝘄𝗵𝗲𝗲𝗹𝘀 𝗴𝘂𝘆𝘀 𝗮𝗻𝗱 𝘁𝗵𝗮𝗻𝗸𝘀 𝗳𝗼𝗿 𝗰𝗵𝗼𝗼𝘀𝗶𝗻𝗴 𝗗𝗲𝗻𝗻𝗶𝘀𝗼𝗻 𝗖𝗼𝗺𝗺𝗲𝗿𝗰𝗶𝗮𝗹𝘀!