Northern Ireland Apprenticeship Week 2022
Feb 17, 2022 @ 09:15
As it's Northern Ireland Apprenticeship Week 2022, we thought we'd take this opportunity to introduce and catch up with some of our current apprentices from our Dennison locations around NI!
Say hello to Ryan, Scott, Reece & Thomas!
Read our Q&A below to hear more about their time so far at Dennison Commercials!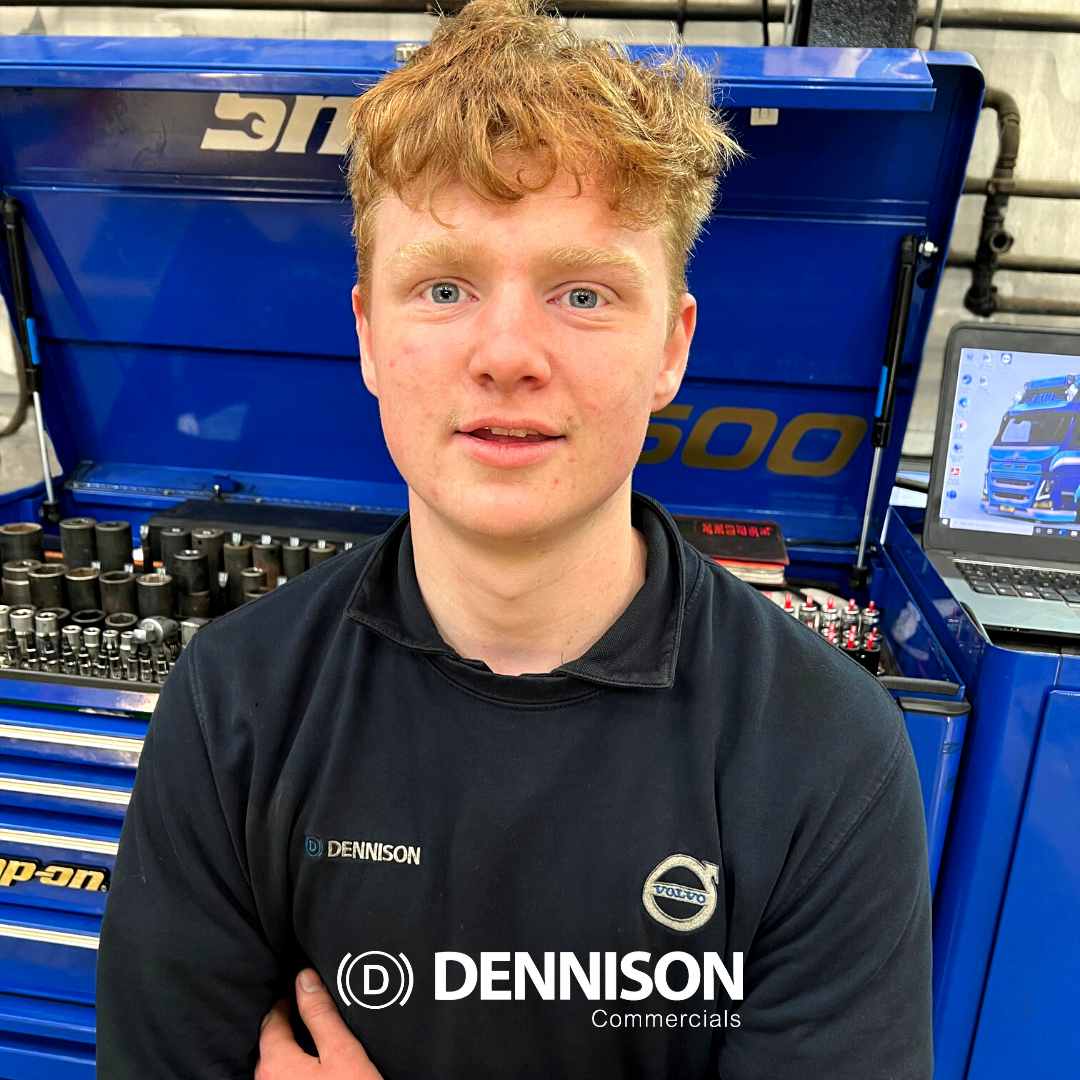 𝗥𝘆𝗮𝗻 𝗖𝗮𝘀𝗲𝗺𝗲𝗻𝘁 (𝟭𝟴)
𝗗𝗲𝗻𝗻𝗶𝘀𝗼𝗻 𝗖𝗼𝗺𝗺𝗲𝗿𝗰𝗶𝗮𝗹𝘀 𝗕𝗮𝗹𝗹𝘆𝗰𝗹𝗮𝗿𝗲 𝗔𝗽𝗽𝗿𝗲𝗻𝘁𝗶𝗰𝗲
𝗖𝘂𝗿𝗿𝗲𝗻𝘁𝗹𝘆 𝗖𝗼𝗺𝗽𝗹𝗲𝘁𝗶𝗻𝗴: 𝗡𝗩𝗤 𝗟𝗲𝘃𝗲𝗹 𝟮 & 𝟯
In my spare time, I love playing football for Glenavy 2nds Football Club.
𝗪𝗵𝘆 𝗱𝗶𝗱 𝘆𝗼𝘂 𝘄𝗮𝗻𝘁 𝘁𝗼 𝗰𝗼𝗺𝗽𝗹𝗲𝘁𝗲 𝗮𝗻 𝗮𝗽𝗽𝗿𝗲𝗻𝘁𝗶𝗰𝗲𝘀𝗵𝗶𝗽?
I wanted to have the opportunity to work with HGV's and learn more about the mechanics of a truck and how they operate.
𝗧𝗲𝗹𝗹 𝘂𝘀 𝗮 𝗹𝗶𝘁𝘁𝗹𝗲 𝗺𝗼𝗿𝗲 𝗮𝗯𝗼𝘂𝘁 𝘄𝗵𝗮𝘁 𝘆𝗼𝘂'𝗿𝗲 𝘀𝘁𝘂𝗱𝘆𝗶𝗻𝗴 𝗳𝗼𝗿 𝘆𝗼𝘂𝗿 𝗮𝗽𝗽𝗿𝗲𝗻𝘁𝗶𝗰𝗲𝘀𝗵𝗶𝗽…
I'm currently carrying out a range of jobs to meet level 2 remove and replace standards, for example faulty injectors etc.
𝗙𝗮𝘃𝗼𝘂𝗿𝗶𝘁𝗲 𝗮𝘀𝗽𝗲𝗰𝘁 𝗼𝗳 𝗰𝗼𝗺𝗽𝗹𝗲𝘁𝗶𝗻𝗴 𝘆𝗼𝘂𝗿 𝗮𝗽𝗽𝗿𝗲𝗻𝘁𝗶𝗰𝗲𝘀𝗵𝗶𝗽 𝗮𝘁 𝗗𝗲𝗻𝗻𝗶𝘀𝗼𝗻𝘀?
It's a really good team and i'm learning a lot.
𝗪𝗵𝗮𝘁'𝘀 𝘁𝗵𝗲 𝗻𝗲𝘅𝘁 𝘀𝘁𝗲𝗽𝘀 𝗶𝗻 𝘆𝗼𝘂𝗿 𝗰𝗮𝗿𝗲𝗲𝗿?
Over the next couple of years, I want to work towards becoming a fully qualified vehicle technician.
𝗔𝗻𝘆 𝗳𝘂𝘁𝘂𝗿𝗲 𝗴𝗼𝗮𝗹𝘀 𝗼𝗿 𝗮𝗺𝗯𝗶𝘁𝗶𝗼𝗻𝘀?
As well as becoming fully qualified, I'd really like to get my HGV license. I also want to continue learning about welding and future vehicles such as electric and hydrogen trucks.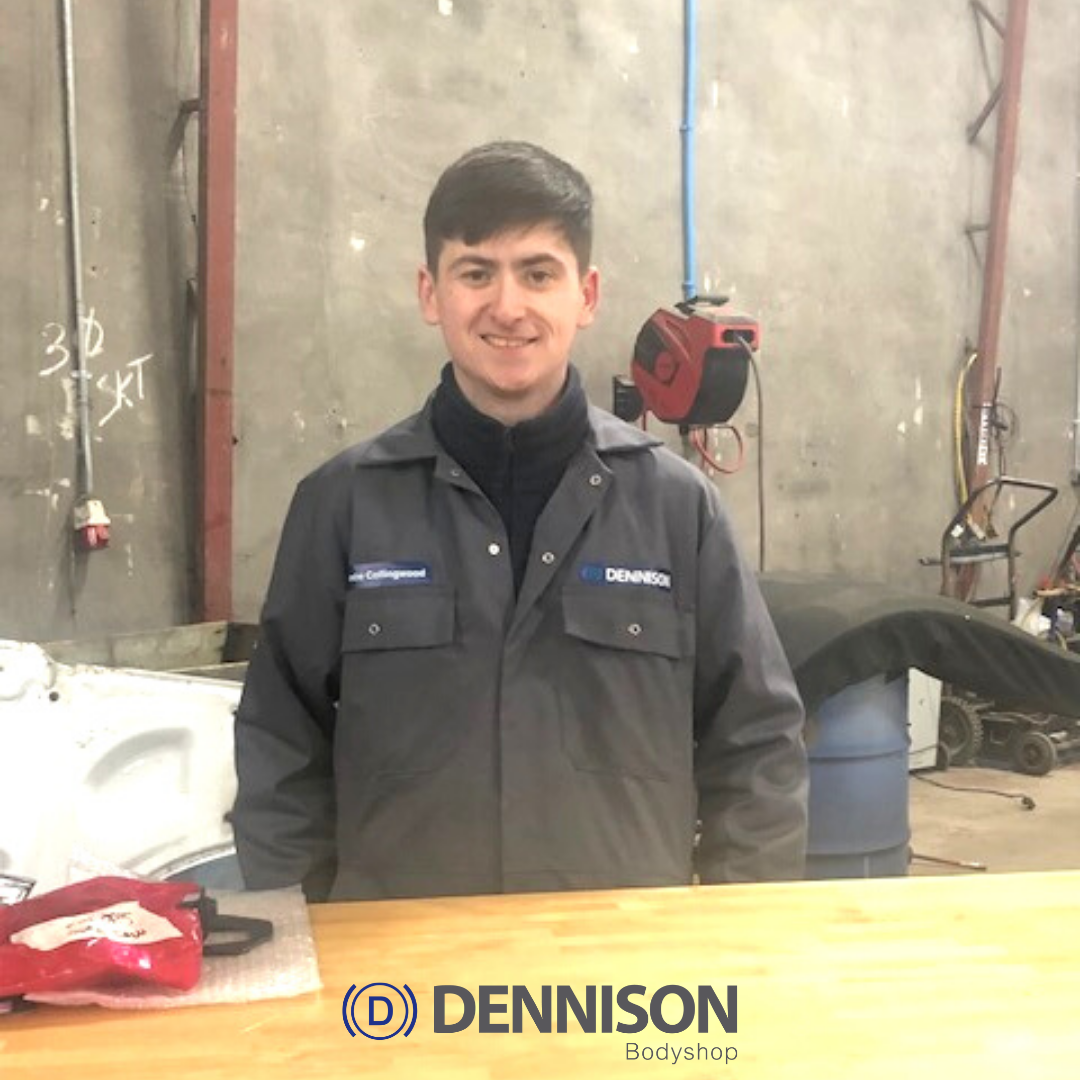 𝗥𝗲𝗲𝗰𝗲 𝗖𝗼𝗹𝗹𝗶𝗻𝗴𝘄𝗼𝗼𝗱 (𝟮𝟮)
𝗗𝗲𝗻𝗻𝗶𝘀𝗼𝗻 𝗕𝗼𝗱𝘆𝘀𝗵𝗼𝗽 𝗔𝗽𝗽𝗿𝗲𝗻𝘁𝗶𝗰𝗲
𝗖𝘂𝗿𝗿𝗲𝗻𝘁𝗹𝘆 𝗖𝗼𝗺𝗽𝗹𝗲𝘁𝗶𝗻𝗴: 𝗡𝗩𝗤 𝗟𝗲𝘃𝗲𝗹 𝟮 𝗕𝗼𝗱𝘆 𝗥𝗲𝗽𝗮𝗶𝗿
I'm really into cars and love seeing all different types of car makes and how different car brands style their cars. Another interest is football, I enjoy both watching and playing.
𝗪𝗵𝘆 𝗱𝗶𝗱 𝘆𝗼𝘂 𝘄𝗮𝗻𝘁 𝘁𝗼 𝗰𝗼𝗺𝗽𝗹𝗲𝘁𝗲 𝗮𝗻 𝗮𝗽𝗽𝗿𝗲𝗻𝘁𝗶𝗰𝗲𝘀𝗵𝗶𝗽?
University never offered me anything that I enjoyed doing. I like working with my hands and the practical side of the apprenticeship.
𝗧𝗲𝗹𝗹 𝘂𝘀 𝗮 𝗹𝗶𝘁𝘁𝗹𝗲 𝗺𝗼𝗿𝗲 𝗮𝗯𝗼𝘂𝘁 𝘄𝗵𝗮𝘁 𝘆𝗼𝘂'𝗿𝗲 𝘀𝘁𝘂𝗱𝘆𝗶𝗻𝗴 𝗳𝗼𝗿 𝘆𝗼𝘂𝗿 𝗮𝗽𝗽𝗿𝗲𝗻𝘁𝗶𝗰𝗲𝘀𝗵𝗶𝗽…
In my apprenticeship, I'm studying Body Repair. Bodyshop Repair Centres often come into play when a vehicle is involved in an accident. My job would be to assess the damage and repair body panels of the vehicle.
𝗙𝗮𝘃𝗼𝘂𝗿𝗶𝘁𝗲 𝗮𝘀𝗽𝗲𝗰𝘁 𝗼𝗳 𝗰𝗼𝗺𝗽𝗹𝗲𝘁𝗶𝗻𝗴 𝘆𝗼𝘂𝗿 𝗮𝗽𝗽𝗿𝗲𝗻𝘁𝗶𝗰𝗲𝘀𝗵𝗶𝗽 𝗮𝘁 𝗗𝗲𝗻𝗻𝗶𝘀𝗼𝗻𝘀?
It's great to be able to complete my apprenticeship with a very well-known company in Northern Ireland.
𝗪𝗵𝗮𝘁'𝘀 𝘁𝗵𝗲 𝗻𝗲𝘅𝘁 𝘀𝘁𝗲𝗽𝘀 𝗶𝗻 𝘆𝗼𝘂𝗿 𝗰𝗮𝗿𝗲𝗲𝗿?
I'd like to see what else I can learn in this trade so I can continue bettering myself and improve my skills and knowledge.
𝗔𝗻𝘆 𝗳𝘂𝘁𝘂𝗿𝗲 𝗴𝗼𝗮𝗹𝘀 𝗼𝗿 𝗮𝗺𝗯𝗶𝘁𝗶𝗼𝗻𝘀?
A future goal of mine, would be to one day have my very own type of Bodyshop.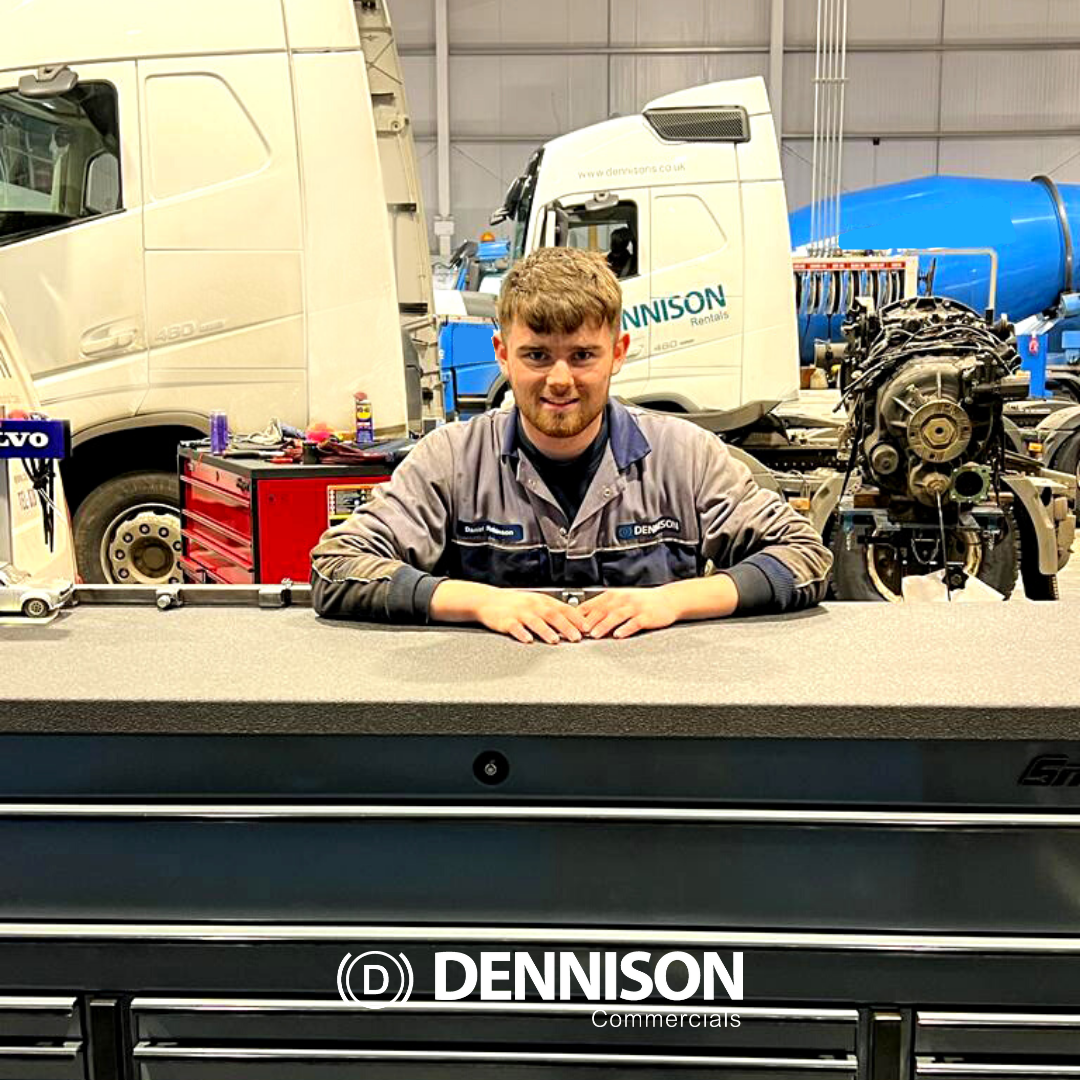 𝗦𝗰𝗼𝘁𝘁 𝗠𝗰𝗠𝗶𝗹𝗹𝗮𝗻 (𝟭𝟴)
𝗗𝗲𝗻𝗻𝗶𝘀𝗼𝗻 𝗖𝗼𝗺𝗺𝗲𝗿𝗰𝗶𝗮𝗹𝘀 𝗖𝗼𝗹𝗲𝗿𝗮𝗶𝗻𝗲 𝗔𝗽𝗽𝗿𝗲𝗻𝘁𝗶𝗰𝗲
𝗖𝘂𝗿𝗿𝗲𝗻𝘁𝗹𝘆 𝗖𝗼𝗺𝗽𝗹𝗲𝘁𝗶𝗻𝗴: 𝗡𝗩𝗤 𝗟𝗲𝘃𝗲𝗹 𝟭
I love to play golf at Castlerock Golf Club and have played for many teams including Ulster.
𝗪𝗵𝘆 𝗱𝗶𝗱 𝘆𝗼𝘂 𝘄𝗮𝗻𝘁 𝘁𝗼 𝗰𝗼𝗺𝗽𝗹𝗲𝘁𝗲 𝗮𝗻 𝗮𝗽𝗽𝗿𝗲𝗻𝘁𝗶𝗰𝗲𝘀𝗵𝗶𝗽?
I've always had an interest in cars and trucks and from a very young age I have always wanted to become a mechanic.
𝗧𝗲𝗹𝗹 𝘂𝘀 𝗮 𝗹𝗶𝘁𝘁𝗹𝗲 𝗺𝗼𝗿𝗲 𝗮𝗯𝗼𝘂𝘁 𝘄𝗵𝗮𝘁 𝘆𝗼𝘂'𝗿𝗲 𝘀𝘁𝘂𝗱𝘆𝗶𝗻𝗴 𝗳𝗼𝗿 𝘆𝗼𝘂𝗿 𝗮𝗽𝗽𝗿𝗲𝗻𝘁𝗶𝗰𝗲𝘀𝗵𝗶𝗽…
At the minute, I'm learning about engines and about what good and bad fuel is.
𝗙𝗮𝘃𝗼𝘂𝗿𝗶𝘁𝗲 𝗮𝘀𝗽𝗲𝗰𝘁 𝗼𝗳 𝗰𝗼𝗺𝗽𝗹𝗲𝘁𝗶𝗻𝗴 𝘆𝗼𝘂𝗿 𝗮𝗽𝗽𝗿𝗲𝗻𝘁𝗶𝗰𝗲𝘀𝗵𝗶𝗽 𝗮𝘁 𝗗𝗲𝗻𝗻𝗶𝘀𝗼𝗻𝘀?
I work alongside a great bunch of people and love learning about all the different aspects and components of HGVs.
𝗪𝗵𝗮𝘁'𝘀 𝘁𝗵𝗲 𝗻𝗲𝘅𝘁 𝘀𝘁𝗲𝗽𝘀 𝗶𝗻 𝘆𝗼𝘂𝗿 𝗰𝗮𝗿𝗲𝗲𝗿?
I want to pass my first year apprenticeship here at Dennison Commercials.
𝗔𝗻𝘆 𝗳𝘂𝘁𝘂𝗿𝗲 𝗴𝗼𝗮𝗹𝘀 𝗼𝗿 𝗮𝗺𝗯𝗶𝘁𝗶𝗼𝗻𝘀?
To get my HGV license and become fully qualified.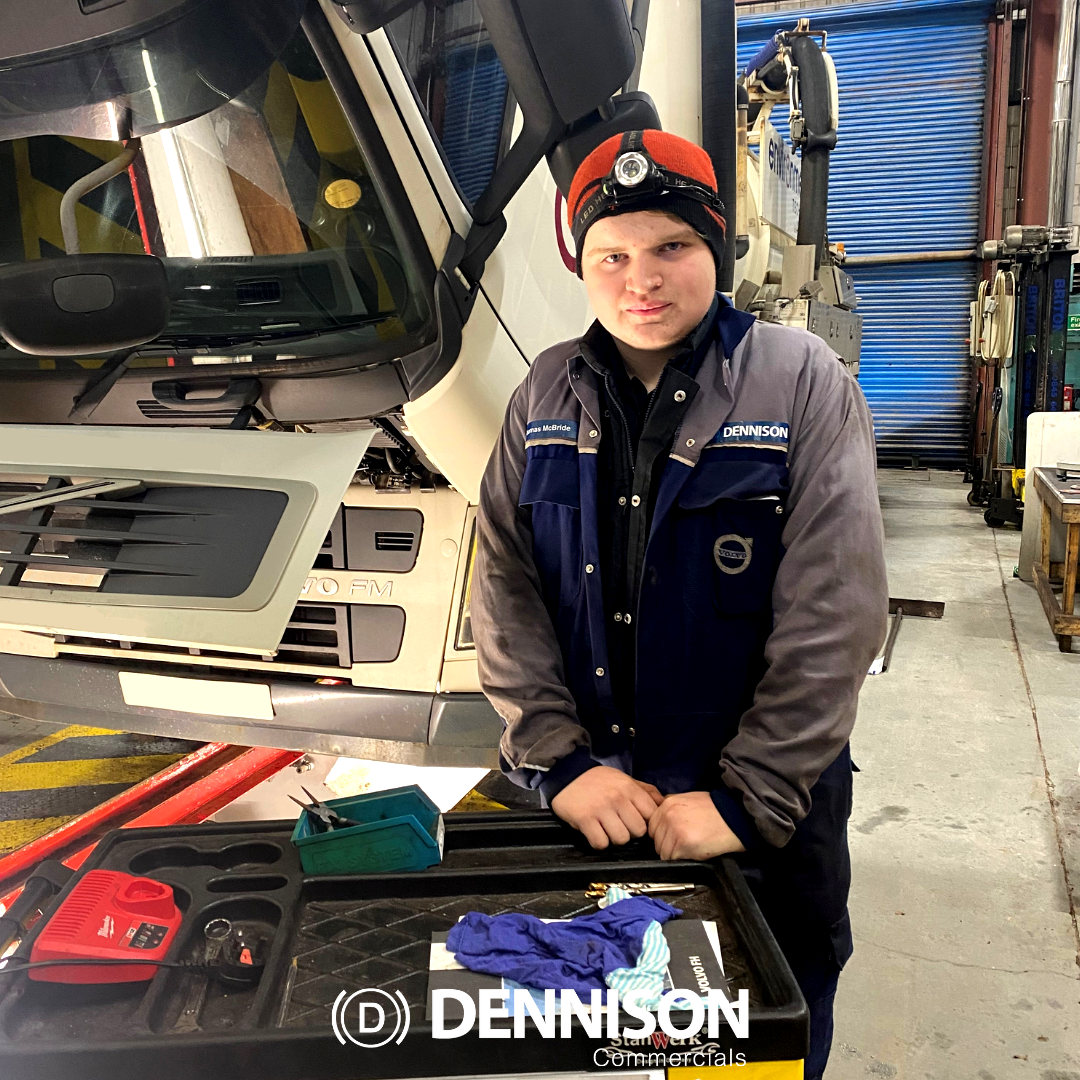 𝗧𝗵𝗼𝗺𝗮𝘀 𝗠𝗰𝗕𝗿𝗶𝗱𝗲 (𝟭𝟲)
𝗗𝗲𝗻𝗻𝗶𝘀𝗼𝗻 𝗖𝗼𝗺𝗺𝗲𝗿𝗰𝗶𝗮𝗹𝘀 𝗡𝗲𝘄𝗿𝘆 𝗔𝗽𝗽𝗿𝗲𝗻𝘁𝗶𝗰𝗲
My two main interests are cars and farming, I love vintage farming like thrashing and double chop silage.
𝗪𝗵𝘆 𝗱𝗶𝗱 𝘆𝗼𝘂 𝘄𝗮𝗻𝘁 𝘁𝗼 𝗰𝗼𝗺𝗽𝗹𝗲𝘁𝗲 𝗮𝗻 𝗮𝗽𝗽𝗿𝗲𝗻𝘁𝗶𝗰𝗲𝘀𝗵𝗶𝗽?
I've always loved helping my dad work on tractors and harvesters and this sparked my interest to complete an apprenticeship.
𝗧𝗲𝗹𝗹 𝘂𝘀 𝗮 𝗹𝗶𝘁𝘁𝗹𝗲 𝗺𝗼𝗿𝗲 𝗮𝗯𝗼𝘂𝘁 𝘄𝗵𝗮𝘁 𝘆𝗼𝘂'𝗿𝗲 𝘀𝘁𝘂𝗱𝘆𝗶𝗻𝗴 𝗳𝗼𝗿 𝘆𝗼𝘂𝗿 𝗮𝗽𝗽𝗿𝗲𝗻𝘁𝗶𝗰𝗲𝘀𝗵𝗶𝗽…
At the moment, I'm studying the parts of an engine and have had the opportunity to work on removing and replacing them.
𝗙𝗮𝘃𝗼𝘂𝗿𝗶𝘁𝗲 𝗮𝘀𝗽𝗲𝗰𝘁 𝗼𝗳 𝗰𝗼𝗺𝗽𝗹𝗲𝘁𝗶𝗻𝗴 𝘆𝗼𝘂𝗿 𝗮𝗽𝗽𝗿𝗲𝗻𝘁𝗶𝗰𝗲𝘀𝗵𝗶𝗽 𝗮𝘁 𝗗𝗲𝗻𝗻𝗶𝘀𝗼𝗻𝘀?
I enjoy being able to work alongside an experienced team and love working with Volvo trucks.
𝗪𝗵𝗮𝘁'𝘀 𝘁𝗵𝗲 𝗻𝗲𝘅𝘁 𝘀𝘁𝗲𝗽𝘀 𝗶𝗻 𝘆𝗼𝘂𝗿 𝗰𝗮𝗿𝗲𝗲𝗿?
I want to become a fully trained, Volvo Truck mechanic.
𝗔𝗻𝘆 𝗳𝘂𝘁𝘂𝗿𝗲 𝗴𝗼𝗮𝗹𝘀 𝗼𝗿 𝗮𝗺𝗯𝗶𝘁𝗶𝗼𝗻𝘀?
One day, when I'm a more confident mechanic I'd like to start my very own call out garage. I'd also love to own a couple of old cars and tractors.