Leitch Translift Ltd.'s brand-new Volvo FH Globetrotter
Sep 19, 2022 @ 10:23
Whole '𝗟-otta 𝗧-ruck 𝗟-ove' for Leitch Translift Ltd's BRAND-NEW, Volvo FH with Globetrotter Cab! 👏😍
𝗧𝗵𝗲𝗿𝗲 𝘄𝗲𝗿𝗲 𝗕𝗜𝗚 𝘀𝗺𝗶𝗹𝗲𝘀 𝗼𝗻 𝗵𝗮𝗻𝗱𝗼𝘃𝗲𝗿 𝗱𝗮𝘆 𝗮𝘀 𝘄𝗲 𝘄𝗲𝗹𝗰𝗼𝗺𝗲𝗱 𝘁𝗵𝗲 𝗹𝗼𝘃𝗲𝗹𝘆 𝗟𝗲𝗶𝘁𝗰𝗵 𝗳𝗮𝗺𝗶𝗹𝘆 𝘁𝗼 𝗼𝘂𝗿 𝗕𝗮𝗹𝗹𝘆𝗰𝗹𝗮𝗿𝗲 𝗛𝗤 𝘁𝗼 𝗰𝗼𝗹𝗹𝗲𝗰𝘁 𝘁𝗵𝗲𝗶𝗿 𝗜𝗡𝗖𝗥𝗘𝗗𝗜𝗕𝗟𝗘, 𝗻𝗲𝘄-𝗺𝗼𝗱𝗲𝗹 𝘁𝗿𝘂𝗰𝗸!😊😊
The 13L, 540HP, 8x2 FH is equipped with lifting & steering tag axle, full chassis air suspension and has been factory-prepped for both fifth-wheel & rear drawbar hitch.
𝗧𝗼 𝗲𝗻𝘀𝘂𝗿𝗲 𝗺𝗮𝘅𝗶𝗺𝘂𝗺 𝗱𝗿𝗶𝘃𝗲𝗿 𝗰𝗼𝗺𝗳𝗼𝗿𝘁 𝗮𝗻𝗱 𝗰𝗼𝗻𝘃𝗲𝗻𝗶𝗲𝗻𝗰𝗲 𝗼𝗻 𝗲𝘃𝗲𝗿𝘆 𝗷𝗼𝘂𝗿𝗻𝗲𝘆, 𝘁𝗵𝗲 𝗙𝗛 𝗶𝘀 𝗮𝗹𝘀𝗼 𝗲𝗾𝘂𝗶𝗽𝗽𝗲𝗱 𝘄𝗶𝘁𝗵…
🌟 Volvo Passenger View Camera
🌟 Reverse Camera with Dash Displays
🌟 Leather Seats
🌟 Fridge
🌟 Microwave
🌟 TV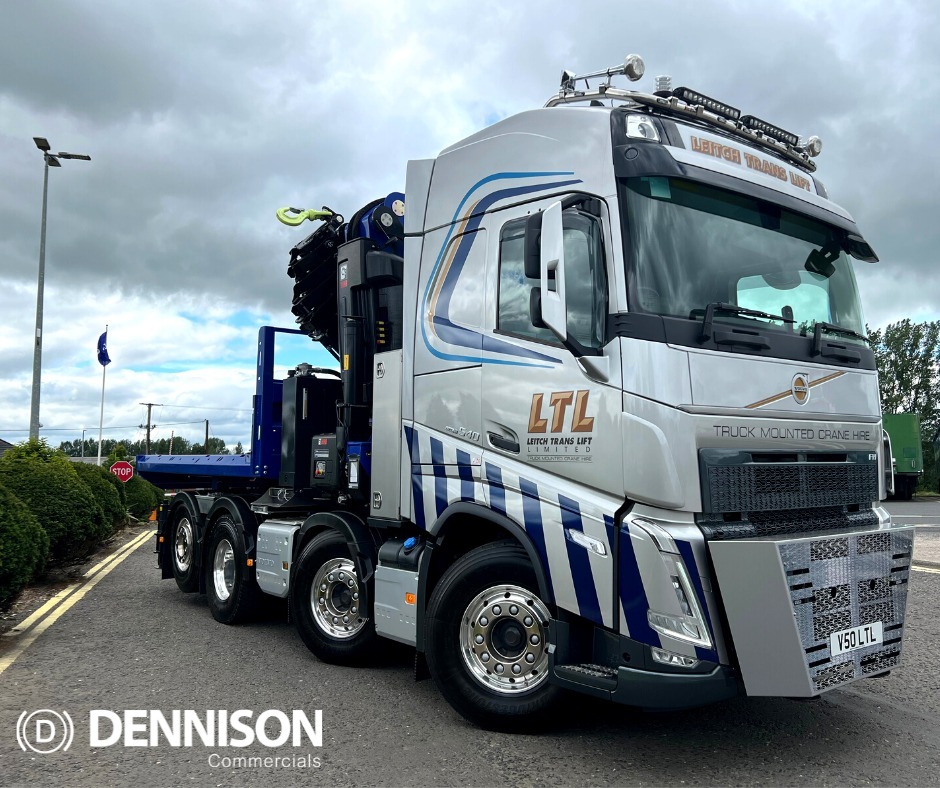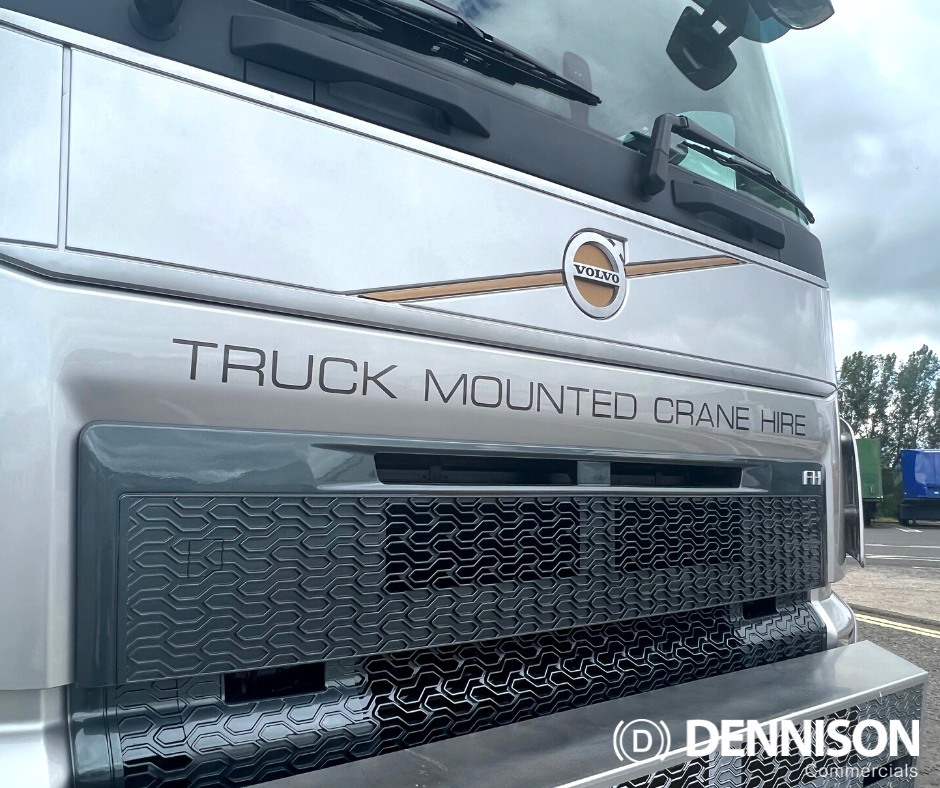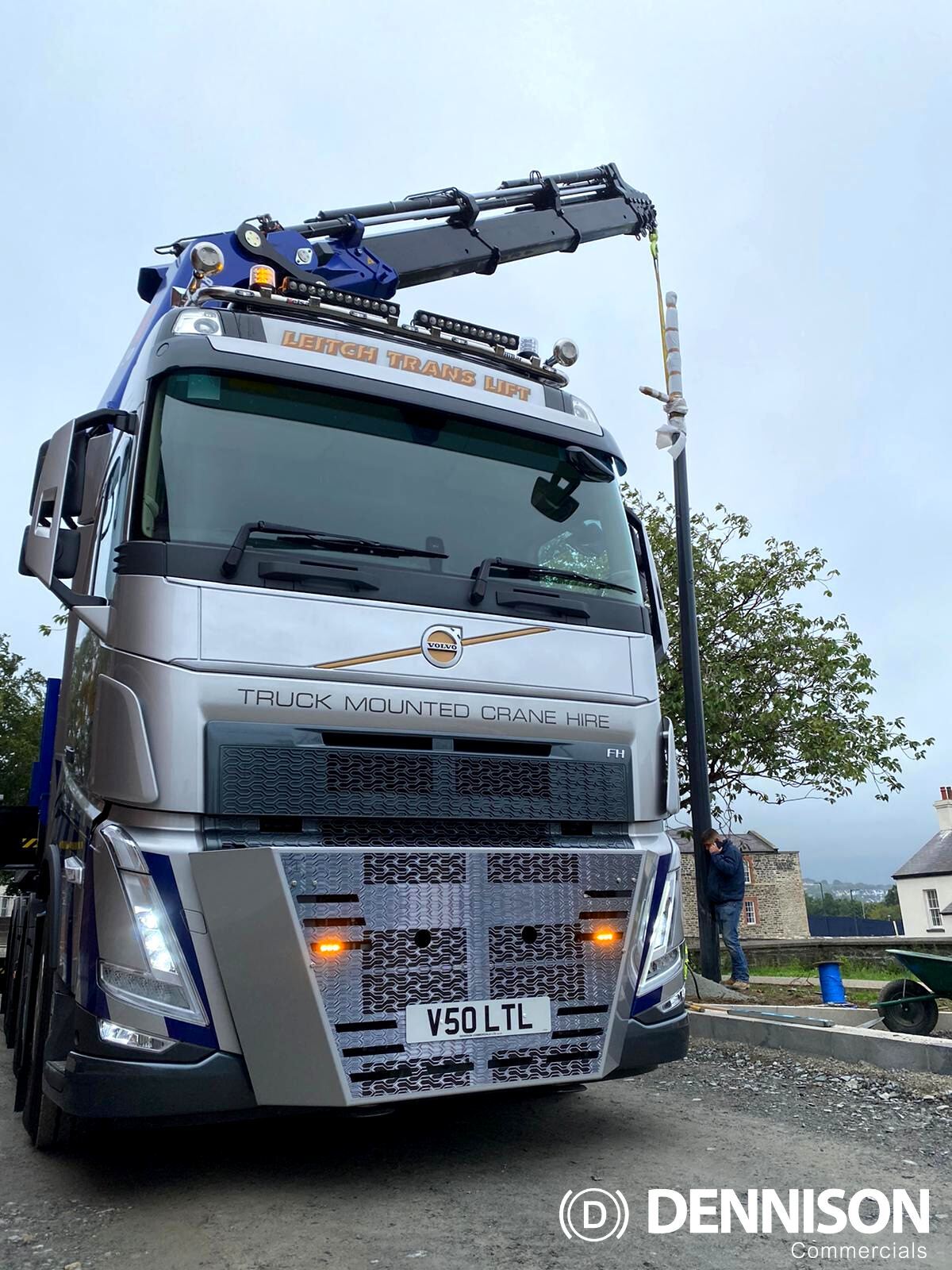 𝗜𝗻 𝗱𝗲𝘃𝗲𝗹𝗼𝗽𝗶𝗻𝗴 𝘁𝗵𝗶𝘀 𝘁𝗿𝘂𝗰𝗸, 𝗲𝘃𝗲𝗿𝘆 𝗱𝗲𝘁𝗮𝗶𝗹, 𝗳𝗶𝘁𝘁𝗶𝗻𝗴 𝗮𝗻𝗱 𝗮𝘁𝘁𝗮𝗰𝗵𝗺𝗲𝗻𝘁 𝘄𝗮𝘀 𝗰𝗮𝗿𝗲𝗳𝘂𝗹𝗹𝘆 𝗰𝗼𝗻𝘀𝗶𝗱𝗲𝗿𝗲𝗱 𝘁𝗼 𝗽𝗿𝗼𝗱𝘂𝗰𝗲 𝘁𝗵𝗲 𝗺𝗼𝘀𝘁 𝗯𝗲𝘀𝗽𝗼𝗸𝗲, 𝗽𝗿𝗮𝗰𝘁𝗶𝗰𝗮𝗹 𝗮𝗻𝗱 𝗳𝗹𝗲𝘅𝗶𝗯𝗹𝗲 𝘀𝗼𝗹𝘂𝘁𝗶𝗼𝗻 𝗳𝗼𝗿 𝘁𝗵𝗶𝘀 𝘀𝗽𝗲𝗰𝗶𝗮𝗹𝗶𝘀𝘁 𝗮𝗽𝗽𝗹𝗶𝗰𝗮𝘁𝗶𝗼𝗻.

A truly collaborative project the truck features a HIAB Crane supplied by MAW Engineering, Crane install, subframe & demount flat body by Nugent Engineering, Custom fuel tanks & battery relocation by S.M. Components, additional lights & beacons by our own DC Workshop & additional paint by our Dennison Bodyshop.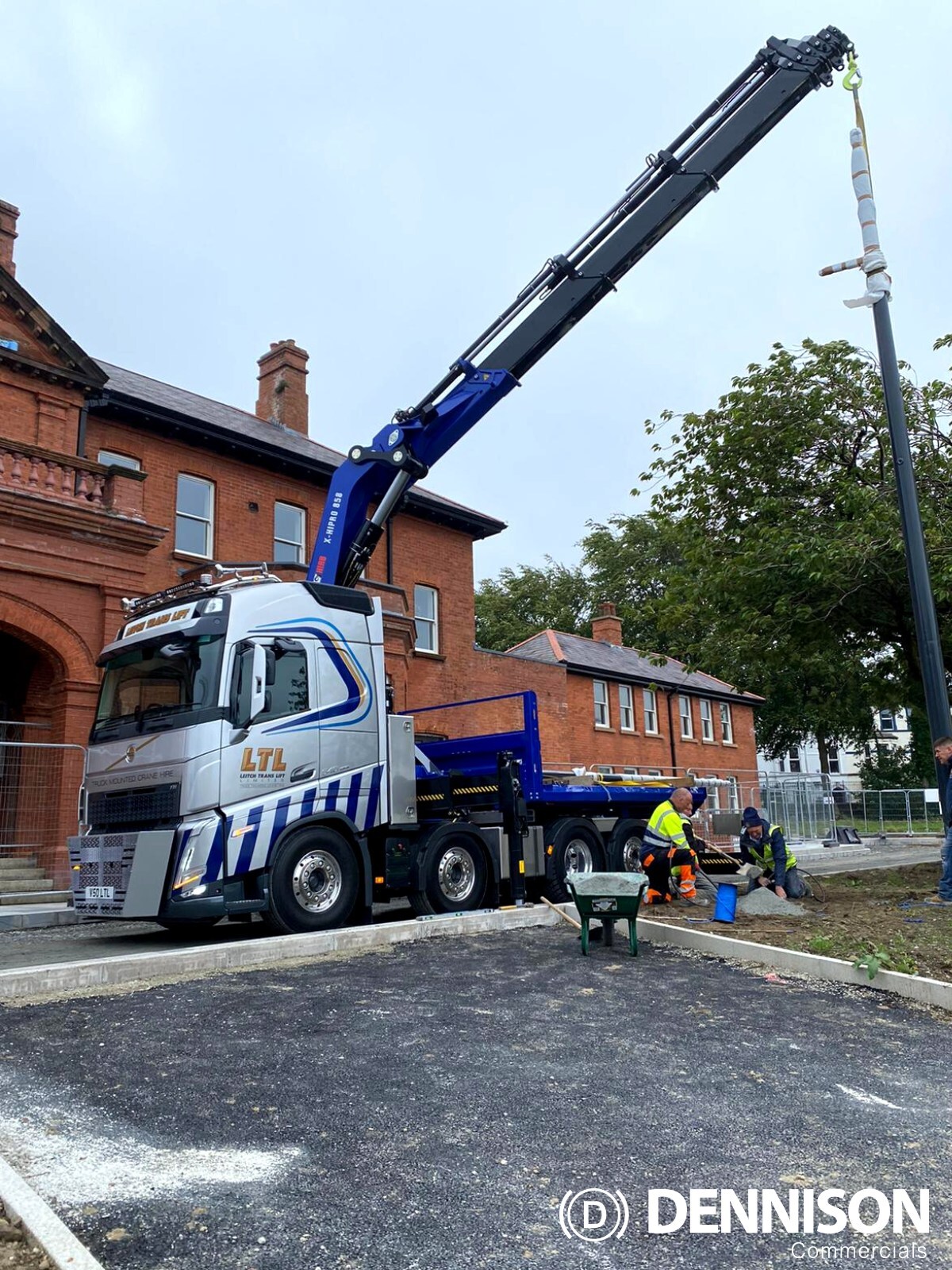 🏗️ 🚚 𝗙𝗼𝗹𝗹𝗼𝘄𝗶𝗻𝗴 𝗮 𝗳𝘂𝗹𝗹 𝗱𝗿𝗶𝘃𝗲𝗿 𝗵𝗮𝗻𝗱𝗼𝘃𝗲𝗿 𝗯𝘆 𝗝𝗼𝗵𝗻 𝗝𝗼𝗵𝗻𝘀𝘁𝗼𝗻, 𝗗𝗲𝗻𝗻𝗶𝘀𝗼𝗻'𝘀 𝗛𝗮𝗻𝗱𝗼𝘃𝗲𝗿 𝗠𝗮𝗻𝗮𝗴𝗲𝗿, 𝗮𝗻𝗱 𝗮 𝗳𝘂𝗹𝗹 𝗛𝗶𝗮𝗯 𝗵𝗮𝗻𝗱𝗼𝘃𝗲𝗿 𝗯𝘆 𝗛𝗶𝗮𝗯 𝘀𝗽𝗲𝗰𝗶𝗮𝗹𝗶𝘀𝘁𝘀, 𝘁𝗵𝗲 𝘁𝗿𝘂𝗰𝗸 𝘄𝗲𝗻𝘁 𝘀𝘁𝗿𝗮𝗶𝗴𝗵𝘁 𝘁𝗼 𝘄𝗼𝗿𝗸!
A huge thank you to Niall Leitch for choosing Dennison Commercials and to everyone involved especially Colm Browne at Nugent Engineering, Hugh Dillon at MAW Engineering, Seamus & Terry at SM Components and all our team here at Dennison Commercials!