Dennison Rentals & Ardboe Coldstore
Oct 18, 2023 @ 10:43
❄️𝗠𝗶𝗱 𝗨𝗹𝘀𝘁𝗲𝗿 𝗛𝗮𝗻𝗱𝗼𝘃𝗲𝗿..... 𝗔𝗿𝗱𝗯𝗼𝗲 𝗖𝗼𝗹𝗱𝘀𝘁𝗼𝗿𝗲❄️
This week, our Dennison Rental Team headed to Magherafelt to deliver this fab fleet of Volvo FH 540 Globetrotter 13 Litre Trucks to returning rentals customer Eugene Carson, Ardboe, Coldstores.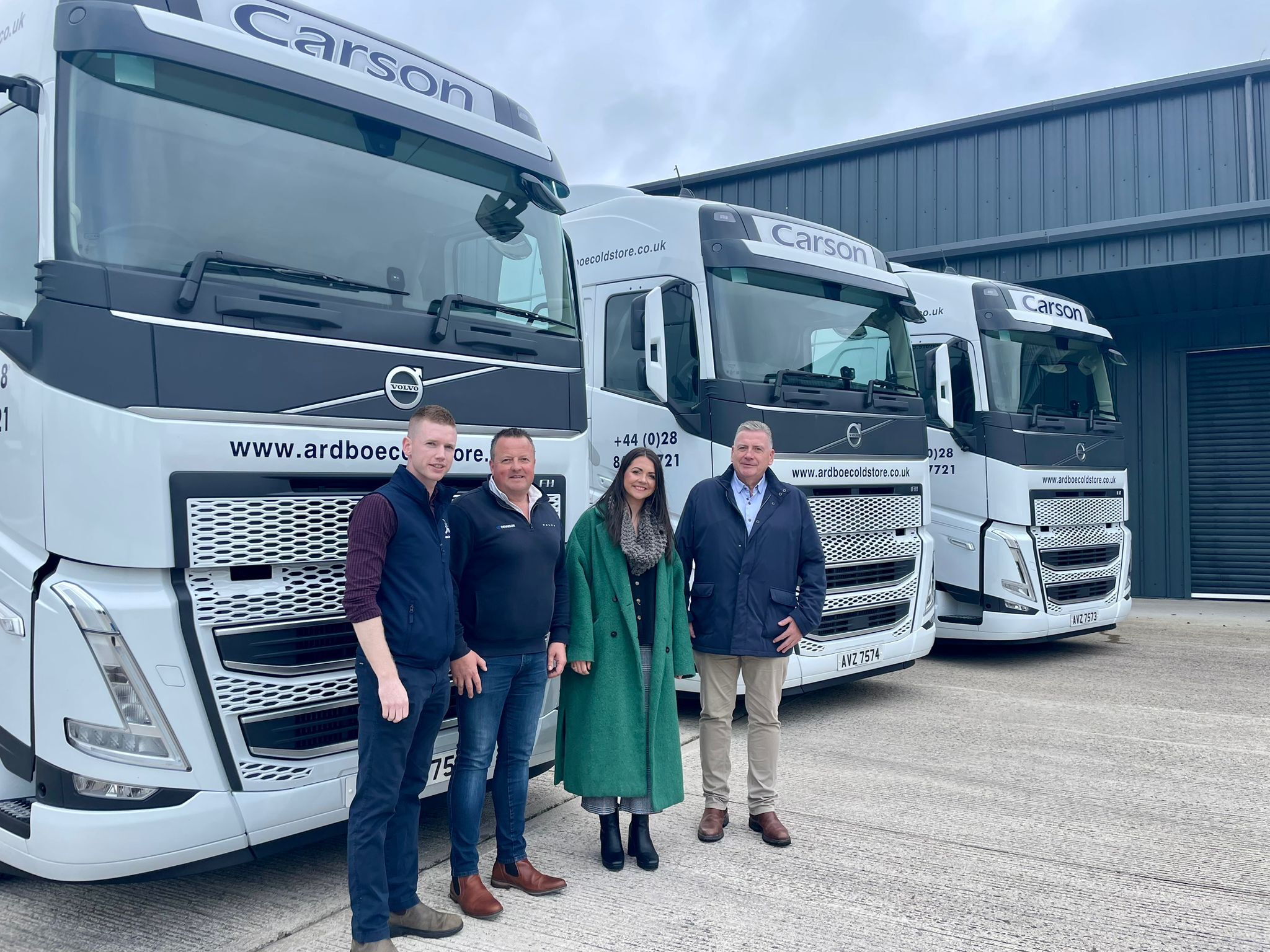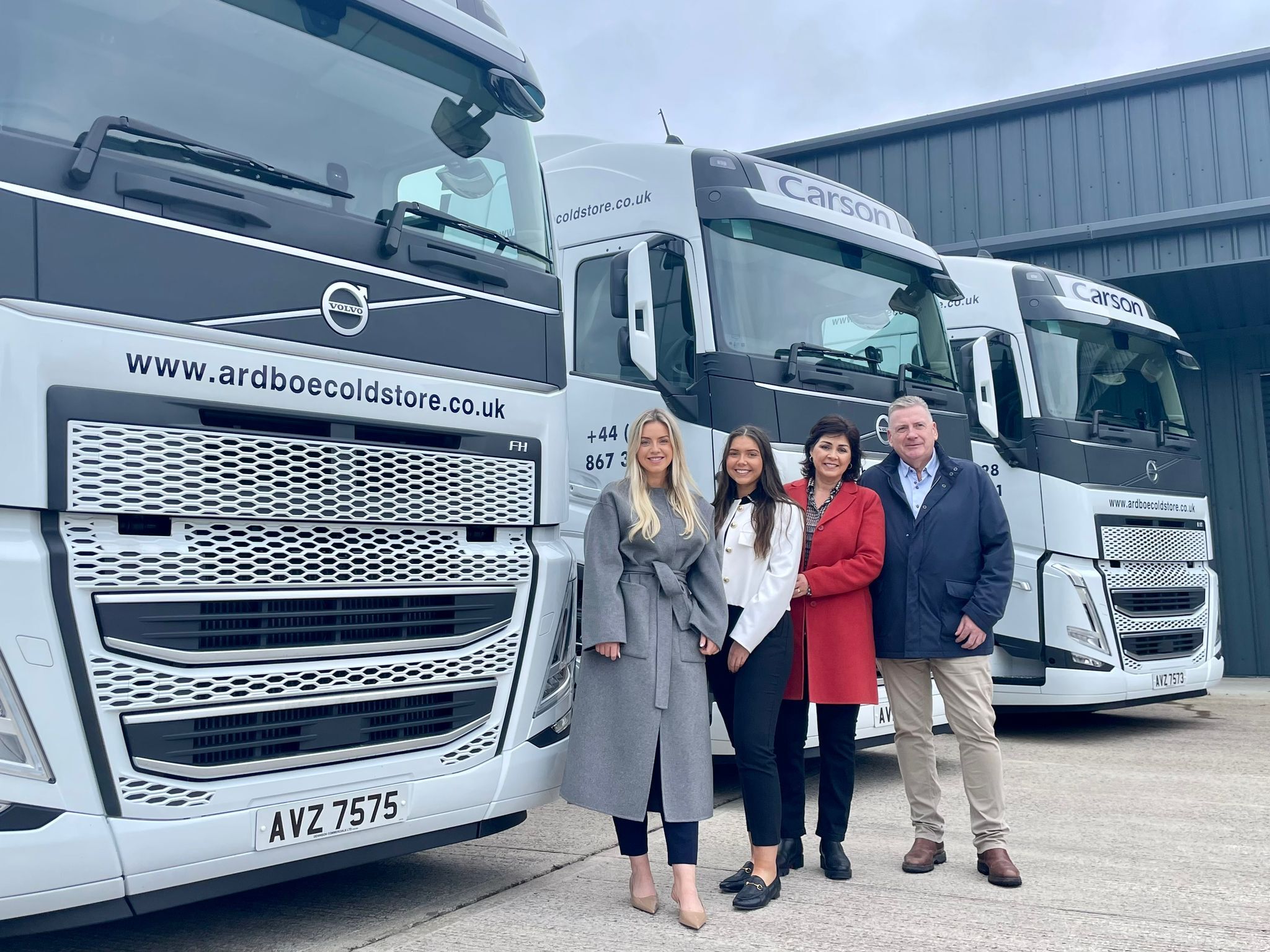 📸𝗔𝘁 𝗵𝗮𝗻𝗱𝗼𝘃𝗲𝗿, 𝗧𝗵𝗼𝗺𝗮𝘀 𝗚𝗿𝗲𝗴𝗴, (𝗥𝗲𝗻𝘁𝗮𝗹𝘀 𝗖𝗼𝗼𝗿𝗱𝗶𝗻𝗮𝘁𝗼𝗿), 𝗦𝗮𝗿𝗮𝗵 𝗕𝘂𝗿𝗻𝗲𝘁𝘁 (𝗨𝘀𝗲𝗱 & 𝗥𝗲𝗻𝘁𝗮𝗹𝘀 𝗠𝗮𝗻𝗴𝗲𝗿) 𝗮𝗻𝗱 𝗝𝗼𝗵𝗻 𝗝𝗲𝗻𝗸𝗶𝗻𝘀 (𝗠𝗗), 𝗺𝗲𝘁 𝘄𝗶𝘁𝗵 𝗘𝘂𝗴𝗲𝗻𝗲 & 𝗙𝗶𝗼𝗻𝗮 𝗖𝗮𝗿𝘀𝗼𝗻, 𝘁𝗵𝗲𝗶𝗿 𝘁𝘄𝗼 𝗱𝗮𝘂𝗴𝗵𝘁𝗲𝗿𝘀 𝗘𝗺𝗶𝗹𝘆 & 𝗭𝗮𝗿𝗮, 𝗮𝗻𝗱 𝗡𝗶𝗮𝗹𝗹 𝗧𝗼𝗵𝗶𝗹𝗹 𝗧𝗿𝗮𝗻𝘀𝗽𝗼𝗿𝘁 𝗠𝗮𝗻𝗮𝗴𝗲𝗿 𝗮𝘁 𝗔𝗿𝗱𝗯𝗼𝗲, 𝗖𝗼𝗹𝗱𝘀𝘁𝗼𝗿𝗲 𝗱𝗲𝗽𝗼𝘁 𝗶𝗻 𝗠𝗮𝗴𝗵𝗲𝗿𝗮𝗳𝗲𝗹𝘁.
A massive congrats and thank you to Eugene Carson and the Ardboe Coldstore Team for once again choosing Dennison Rentals!
𝗪𝗮𝗻𝘁 𝘁𝗼 𝗸𝗻𝗼𝘄 𝗺𝗼𝗿𝗲 𝗮𝗯𝗼𝘂𝘁 𝗗𝗲𝗻𝗻𝗶𝘀𝗼𝗻 𝗥𝗲𝗻𝘁𝗮𝗹𝘀?
📧Email Us: rentals@dennisons.co.uk
📞Call Us: 028 9335 2827