Dennison Commercials sponsor Mencap in Northern Ireland's annual Race Day at Down Royal Racecourse
Jun 10, 2022 @ 10:01
We're super excited to announce that this year we will be sponsoring Mencap in Northern Ireland's annual Race Day at Down Royal Racecourse!
𝗙𝗼𝗿 𝗼𝘃𝗲𝗿 𝟮𝟬 𝘆𝗲𝗮𝗿𝘀, 𝗥𝗮𝗰𝗲 𝗗𝗮𝘆 𝗵𝗮𝘀 𝗯𝗲𝗲𝗻 𝗠𝗲𝗻𝗰𝗮𝗽 𝗡𝗜'𝘀 𝗳𝗹𝗮𝗴𝘀𝗵𝗶𝗽 𝗳𝘂𝗻𝗱𝗿𝗮𝗶𝘀𝗶𝗻𝗴 𝗲𝘃𝗲𝗻𝘁, 𝗵𝗮𝘃𝗶𝗻𝗴 𝗿𝗮𝗶𝘀𝗲𝗱 𝗼𝘃𝗲𝗿 £𝟭 𝗺𝗶𝗹𝗹𝗶𝗼𝗻 𝘁𝗼 𝘀𝘂𝗽𝗽𝗼𝗿𝘁 𝘃𝗶𝘁𝗮𝗹 𝗲𝗮𝗿𝗹𝘆 𝘆𝗲𝗮𝗿𝘀 𝘀𝗲𝗿𝘃𝗶𝗰𝗲𝘀 𝗳𝗼𝗿 𝗹𝗼𝗰𝗮𝗹 𝗰𝗵𝗶𝗹𝗱𝗿𝗲𝗻 𝘄𝗶𝘁𝗵 𝗮 𝗹𝗲𝗮𝗿𝗻𝗶𝗻𝗴 𝗱𝗶𝘀𝗮𝗯𝗶𝗹𝗶𝘁𝘆.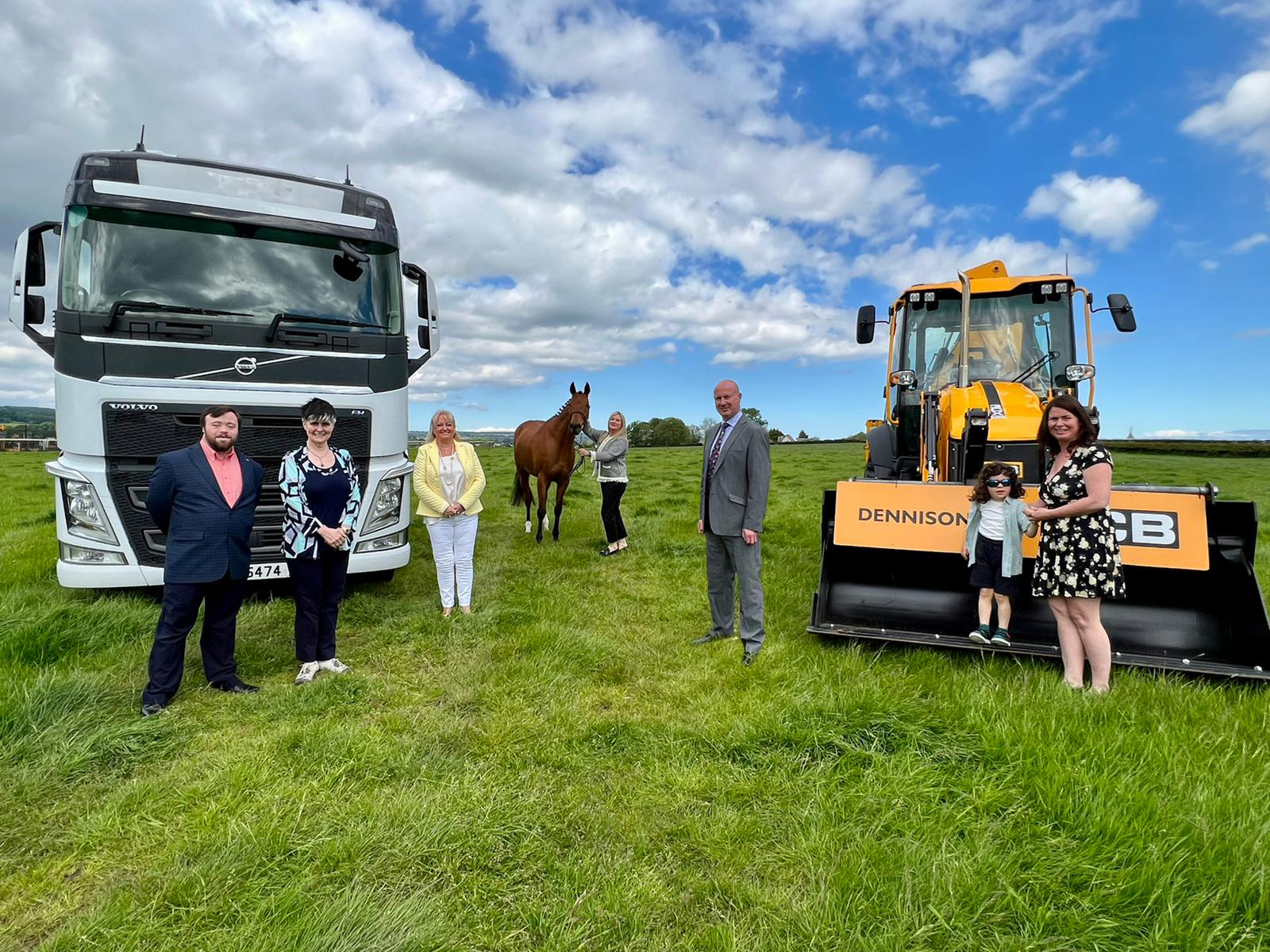 To celebrate the return of Race Day, we got this smiley bunch together to snap this fun photo with a Volvo FH, JCB 3CX Sitemaster Plus and a horse called Major!

𝗣𝗶𝗰𝘁𝘂𝗿𝗲𝗱 𝗟𝗲𝗳𝘁 𝘁𝗼 𝗥𝗶𝗴𝗵𝘁: 𝗠𝗲𝗻𝗰𝗮𝗽 𝗔𝗺𝗯𝗮𝘀𝘀𝗮𝗱𝗼𝗿 𝗝𝗮𝗺𝗲𝘀 𝗠𝗮𝗿𝘁𝗶𝗻, 𝗠𝗲𝗻𝗰𝗮𝗽 𝗡𝗜 𝗗𝗶𝗿𝗲𝗰𝘁𝗼𝗿 𝗚𝗿𝗮𝗶𝗻𝗻𝗲 𝗖𝗹𝗼𝘀𝗲, 𝗛𝗼𝗻𝗼𝗿𝗮𝗿𝘆 𝗟𝗶𝗳𝗲 𝗠𝗲𝗺𝗯𝗲𝗿 𝗮𝗻𝗱 𝗖𝗵𝗮𝗶𝗿𝗽𝗲𝗿𝘀𝗼𝗻 𝗼𝗳 𝗠𝗲𝗻𝗰𝗮𝗽 𝗦𝗽𝗲𝗰𝗶𝗮𝗹 𝗘𝘃𝗲𝗻𝘁𝘀 𝗠𝗮𝗿𝗶𝗮𝗻 𝗡𝗶𝗰𝗵𝗼𝗹𝗮𝘀, 𝗗𝗲𝗻𝗻𝗶𝘀𝗼𝗻 𝗖𝗼𝗺𝗺𝗲𝗿𝗰𝗶𝗮𝗹𝘀 𝗗𝗶𝗿𝗲𝗰𝘁𝗼𝗿𝘀 𝗞𝗮𝘁𝗿𝗶𝗻𝗮 𝗗𝗲𝗻𝗻𝗶𝘀𝗼𝗻 𝗮𝗻𝗱 𝗝𝗼𝗵𝗻 𝗝𝗲𝗻𝗸𝗶𝗻𝘀 𝗮𝗻𝗱 𝗔𝗹𝗲𝘅𝗮𝗻𝗱𝗲𝗿 & 𝗟𝗲𝗮𝗵𝗮𝗻𝗻𝗲 𝗛𝗮𝗴𝗮𝗻.