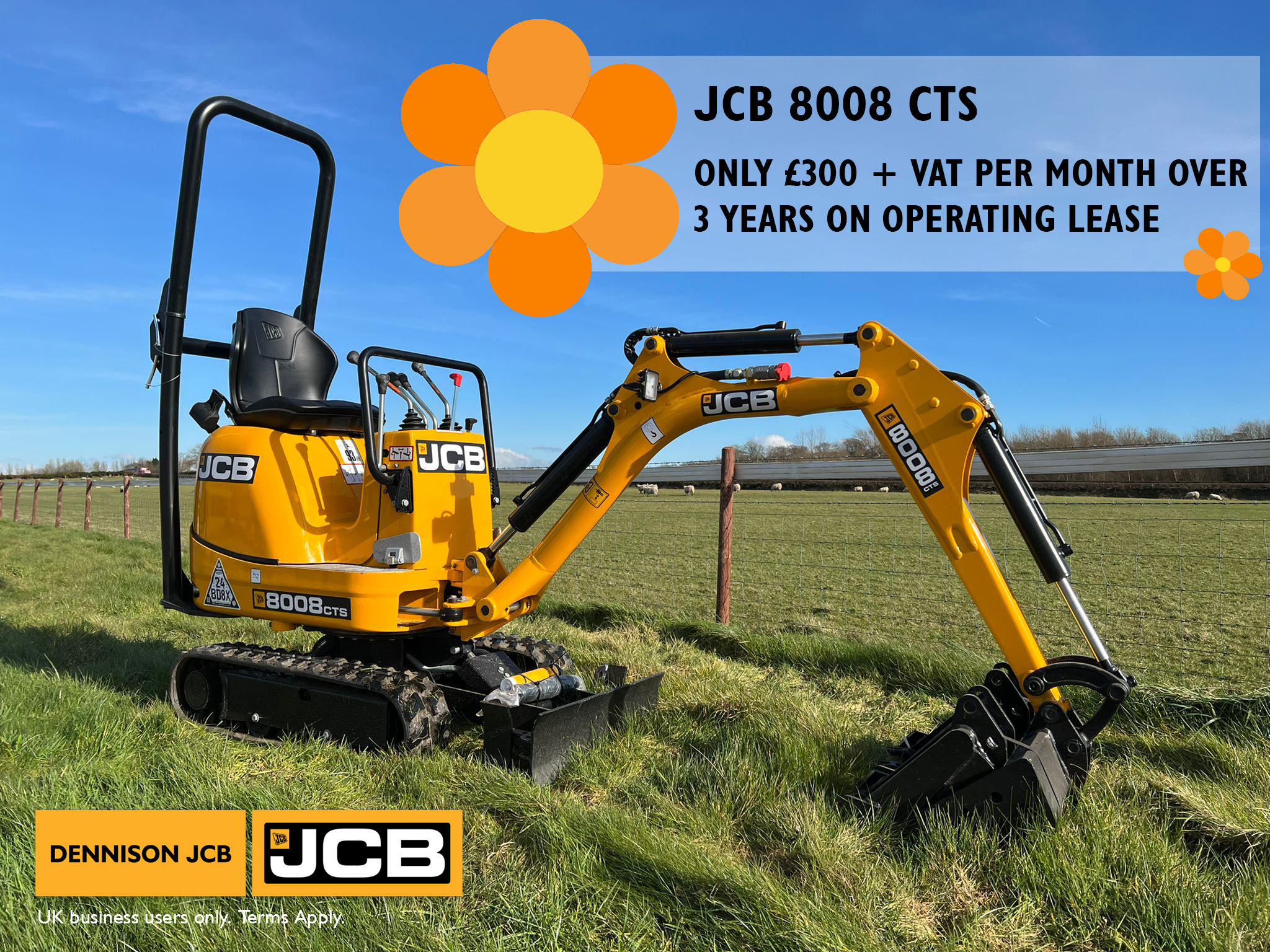 Spring into your mini but MIGHTY, JCB 8008 this Spring!
• Available on a 3 year operating lease from £300+VAT per month. • COMES WITH 3 BUCKETS! • & 3 YEARS WARRANTY Best of all, we have a LIMITED stock available now for immediate delivery! UK Business Users Only. Terms and return conditions apply. CONTACT US TODAY! 028 9344 2222
JCB 8008 available on operating lease from £300+VAT per month

Title

JCB

Make

4

In Stock

£300 Per Month

Price

New

Condition

2022

Year

Yes

Finance Offer?
Machine Specification
The 875kg 8008 CTS micro excavator is a compact machine, capable of high performance in the most restricted areas, including within buildings and in rear gardens.
Compact design giving superb performance in the most restricted areas.
Increased digging forces and lift capacity allows use of larger attachments.
An extending undercarriage gives greater stability and class -leading dig depth and reach
Exceptional leg room and no change-over switches to confuse the user
Daily service checks are quick and easy to carry out.
A 11.5 litre fuel tank means you get a full day's running time with no need to stop what you are doing and fill up.
Transfer by trailer allows faster transfer from site to site.
All functions operate independently of each other for easy operatioN
Terms & Conditions
3 year operating lease offer is available on this JCB 8008 machine via Dennison JCB. Based on a 1+35 monthly payment profile and a maximum of 500 hours per annum.
You will not own the machine at the end of the agreement. Available while stocks last. Hire Purchase options are also available.
Dennison Commercials Limited (Registered Company No: NI022095 Registered office: 8 Ballyhartfield Road, Templepatrick, County Antrim, BT39 0RB) is authorised and regulated by the Financial Conduct Authority. Dennisons Commercials Limited is a credit broker and JCB Finance Ltd are its preferred supplier of Finance. JCB Finance Ltd (registered in England No:972265 and whose registered address is: The Mill, High Street, Rocester, Staffs, ST14 5JW) is authorised and regulated by the Financial Conduct Authority (Firm Reference Number: 708332).
We receive a commission from JCB Finance which is a tiered flat fee that is based on the value of the finance agreement. These payments are not additional fees that you will have to pay and do not affect the amount you pay under your finance agreement. Finance is subject to acceptance by JCB Finance Ltd.