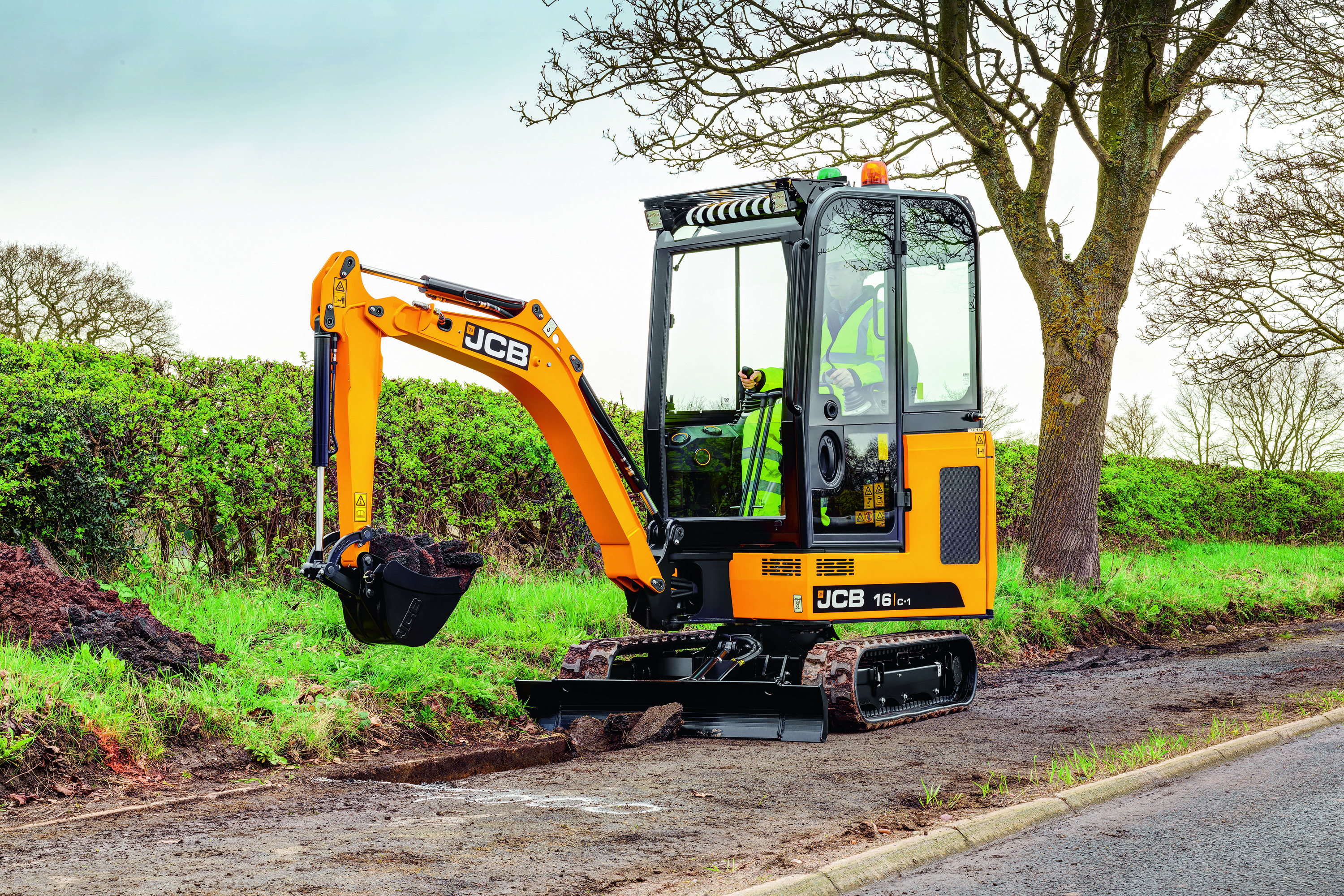 Choose Tough, Choose Quick, Choose the Mighty 16C-1 this summer!
Available on operating lease for £99+VAT Per Week with £429+VAT Deposit. UK Business Users Only. Terms and return conditions apply. CONTACT US TODAY! 028 9344 2222
16C-1 available on operating lease from £99 + VAT Per Week

Title

JCB

Make

£99+VAT Per Week with £429+VAT Deposit

Price

New

Condition

2022

Year

No

Finance Offer?
Machine Specification
Choosing a compact excavator just got tougher.
The 16C-1 is a lightweight conventional tailswing model, ideally suited to being towed behind a van or pickup.
4 Post Canopy: ROPS/TOPS/FOPS Certified
1100mm Dipper
Standard Dozer With Swing Out Extensions
Iso Control Pattern: High Flow, Double Acting Auxiliaries
Static Vinyl Seat
UK Language Pack: Includes Immobiliser Key and Cesar Datatag
JCB Trackmaster PLUS Rubber Tracks 230mm (9 inches)
Std Worklights Kit For 4P Canopy: 2 Front / 1 Rear And Boom / Interior Light Std
Bucket Gp 24 Inch (600Mm) With Teeth No Pivot Pins Supplied
Auto Kick Down Track Motors
LED Amber Beacon
Ditching Bucket 39 inch (1000mm)
Additional Set 30mm Pivot Pins
LiveLink Telematics including 5 year contract
Battery Isolator
Grease Gun Kit
Mechanical Quickhitch (30mm) Pin Size Buckets
General Purpose Bucket 12 inch (300mm)
Terms & Conditions
A 3 year operating lease offer is available on this JCB 16C-1 machine via Dennison JCB. Based on a 1+35 monthly payment profile and a maximum of 100 hours per annum.
You will not own the machine at the end of the agreement. Available while stocks last. Hire Purchase options are also available.
Dennison Commercials Limited (Registered Company No: NI022095 Registered office: 8 Ballyhartfield Road, Templepatrick, County Antrim, BT39 0RB) is authorised and regulated by the Financial Conduct Authority. Dennisons Commercials Limited is a credit broker and JCB Finance Ltd are its preferred supplier of Finance. JCB Finance Ltd (registered in England No:972265 and whose registered address is: The Mill, High Street, Rocester, Staffs, ST14 5JW) is authorised and regulated by the Financial Conduct Authority (Firm Reference Number: 708332).
We receive a commission from JCB Finance which is a tiered flat fee that is based on the value of the finance agreement. These payments are not additional fees that you will have to pay and do not affect the amount you pay under your finance agreement. Finance is subject to acceptance by JCB Finance Ltd